What did Van Gogh's Bedroom mean to Vincent?
Vincent van Gogh mentioned The Bedroom in many letters, happy with the result and he made three versions. Life was good for Van Gogh at that moment. Preparing for Gauguin to share The Yellow House with him, enthusiastic about starting the Studio of the South.
In retrospect this was the calm before the storm. Arguments with Gauguin, drinking and mental health issues would change his life for the worse. Where his bedroom in Arles was meant to rest the mind.
Today 133 years ago, on 16 October 1888,
Vincent van Gogh wrote to his brother Theo from Arles:
"My eyes are still tired, but anyway I had a new idea in mind, and here's the croquis of it. No. 30 canvas once again. This time it's simply my bedroom, but the colour has to do the job here, and through its being simplified by giving a grander style to things, to be suggestive here of rest or of sleep in general. In short, looking at the painting should rest the mind, or rather, the imagination."
Vincent van Gogh's Bedroom in Arles
Arles, 1888
Oil on canvas
72 × 90 cm
Van Gogh Museum, Amsterdam
You may also like to read: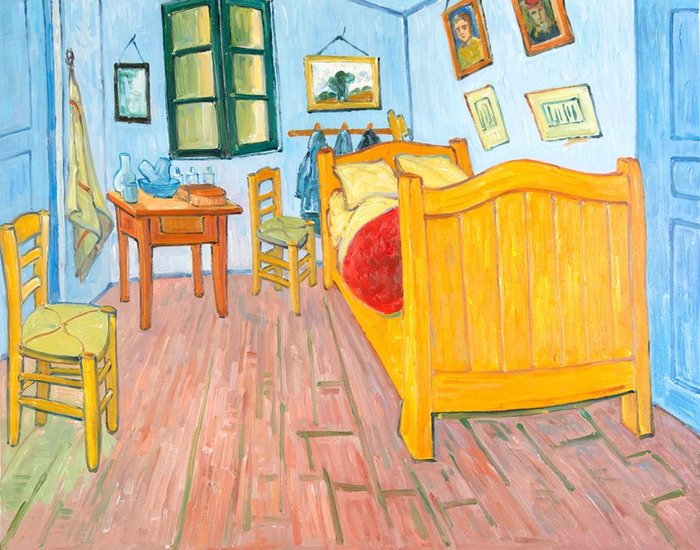 Our hand-painted reproduction of Van Gogh's '
Vincent van Gogh's Bedroom in Arles
'
<< previous
|
next >>
Your Daily Dose of Van Gogh
What did Vincent van Gogh write on this day?
Find out in your
FREE Van Gogh e-book
.
Hundreds of questions answered by Van Gogh himself!