Which painting did Van Gogh's Bedroom remind him of?
Have you ever seen the painting
Vincent's Bedroom
in the Van Gogh Museum? Did you want to know Van Gogh's thoughts about it? We are so fortunate to have his letters. Especially about the Bedroom he wrote a lot to his brother. How else would we know this painting reminded him of a painting he did a year before in Paris: 'Piles of French Novels'?
Today 133 years ago, on 17 October 1888,
Vincent van Gogh wrote to Theo from Arles:
"This bedroom is something like that still life of French novels with yellow, pink, green covers, you'll recall. But I believe that the execution is simpler and more virile. No stippling, no hatching, nothing; the tints flat, but in harmony. I don't know what I'll undertake afterwards, because my sight's still tired."
Piles of French Novels
Paris, 1887
53 x 73,2 cm
Oil on canvas
Van Gogh Museum, Amsterdam
You may also like to read: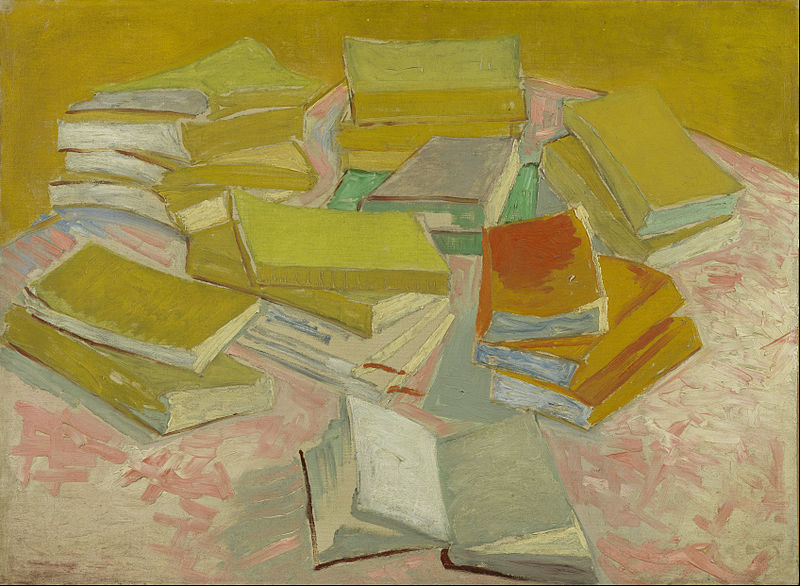 Van Gogh's 'Piles of French Novels'
<< previous
|
next >>
Your Daily Dose of Van Gogh
What did Vincent van Gogh write on this day?
Find out in your
FREE Van Gogh e-book
.
Hundreds of questions answered by Van Gogh himself!