When was Van Gogh inspired by the impressionists?
In 1872 Monet painted "Impression, Sunrise" which depicts the port of Le Havre. Monet commented on it: "It really can't pass as a view of Le Havre." Monet had not tried to paint the port in a photographic way, but rather showed an impression of what he saw. It was M. Louis Leroy who first mentioned the term impressionism, after the title of Monet's work.
Van Gogh's early and dark years
Only in 1880, so 8 years after Monet had painted "Impression, Sunrise", Vincent van Gogh started painting. The first 5 years of his painting career focusing on sombre scenes with mainly dark colors, completely unlike the impressionists (he painted "The Potato Eaters" in 1885).
Miserable impressionists
Then in June 1886 Van Gogh wrote to his sister Willemien: 'people have heard of the Impressionists, they have great expectations of them... and when they see them for the first time they are bitterly, bitterly disappointed and find them careless, ugly, badly painted, badly drawn, bad in colour, everything that's miserable. That was my first impression too, when I came to Paris...'
Inspiration by impressionism and no way back
But in October 1886 Van Gogh seemed to have opened his mind towards the impressionists according to his letter to Horace Mann Livens (his fellow student in Antwerp): "In Antwerp I did not even know what the Impressionists were, now I have seen them and though not being one of the club, yet I have much admired certain Impressionist pictures – degas, nude figure – Claude Monet, landscape."
Van Gogh the Post-Impressionist
When Van Gogh lived in Paris from late February 1886 to February 1888 he started to paint with brighter colors to express his emotions and the influence of the impressionists was clear. All of Van Gogh's most famous paintings are from his last years (painted in Arles and Saint-Remy 1888 - 1890) like his
Starry Night
, the
Irises
and the
Blossoming Almond Tree
. No trace of dark colors left and Van Gogh was later even called a post-impressionist.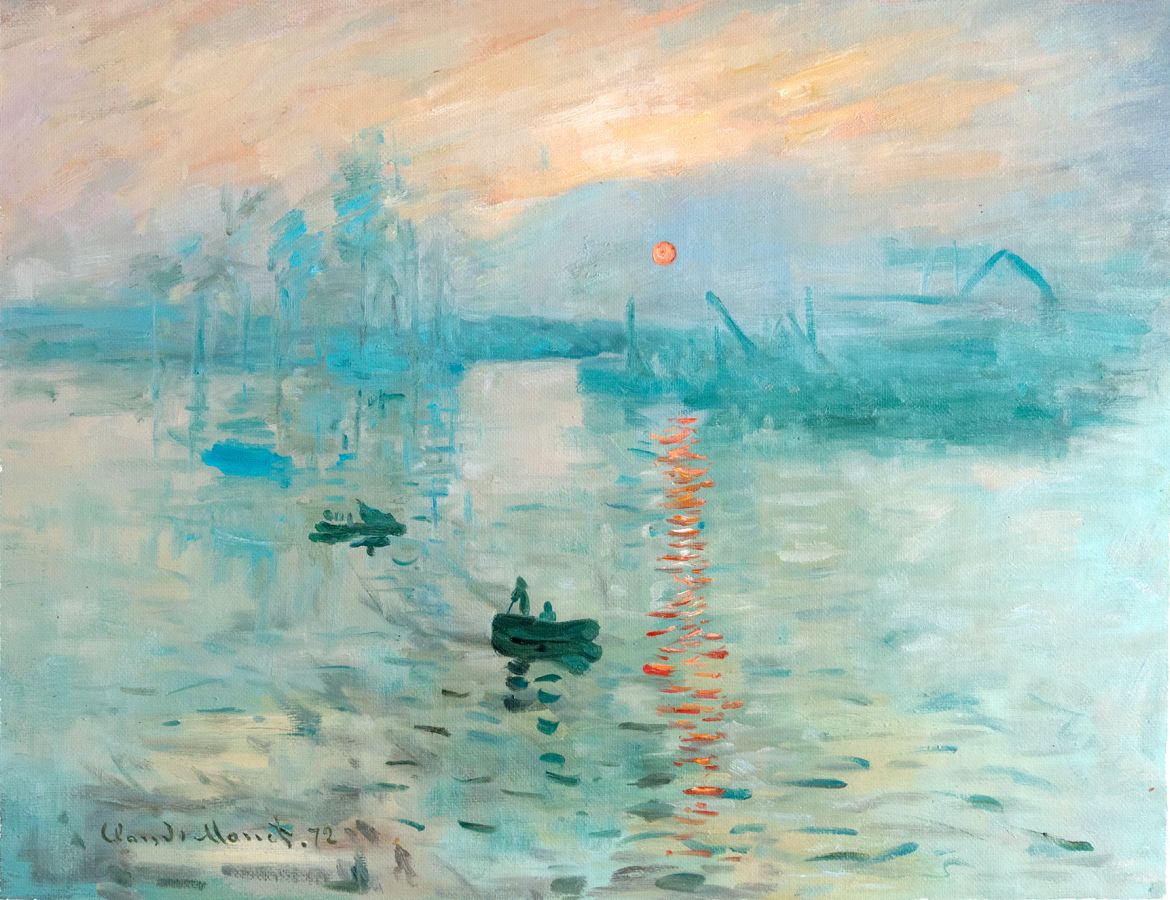 Our hand-painted replica of Impression, Sunrise in oil on canvas
Bring impressionism to your home with a hand-painted reproduction of Monet's Impression, Sunrise.
The original Van Gogh painting can be visited in the Musée Marmottan Monet in Paris... and is not for sale. Our hand-painted Impression, Sunrise reproduction in oil on canvas could be the best alternative. You can
order it here
.
You may also like to read:
Your Daily Dose of Van Gogh
What did Vincent van Gogh write on this day?
Find out in your
FREE Van Gogh e-book
.
Hundreds of questions answered by Van Gogh himself!