Where in The Hague did Van Gogh live?
Vincent van Gogh lived at Schenkweg 138 from 1 January 1882 to 4 July 1882, close to his cousin and teacher Anton Mauve. The buildings in the street were bombed in the Second World War. In case you would like to visit the renamed place, navigate to Hendrick Hamelstraat 8–22, which is close the… Van Gogh park.
Today 140 years ago, on or about 14 January 1882,
Vincent van Gogh wrote to Theo from The Hague:

"I'm planning to go on making small pen drawings whenever possible, but different from the large ones I made this summer. A bit sharper and a bit angrier. This is a sketch of Schenkweg, the view from my window. Well, adieu, with a handshake. Ever yours, Vincent"

The watercolor painting based on the sketch mentioned above is one of the first paintings by van Gogh. Vincent had been drawing for many years but basically started painting after his study visit to his cousin-in-law and mentor Anton Mauve at The Hague in December 1881.

Meadows near Rijswijk and the Schenkweg
The Hague, January 1882
Watercolor
38 × 56 cm
Private collection, London

You may also like to read: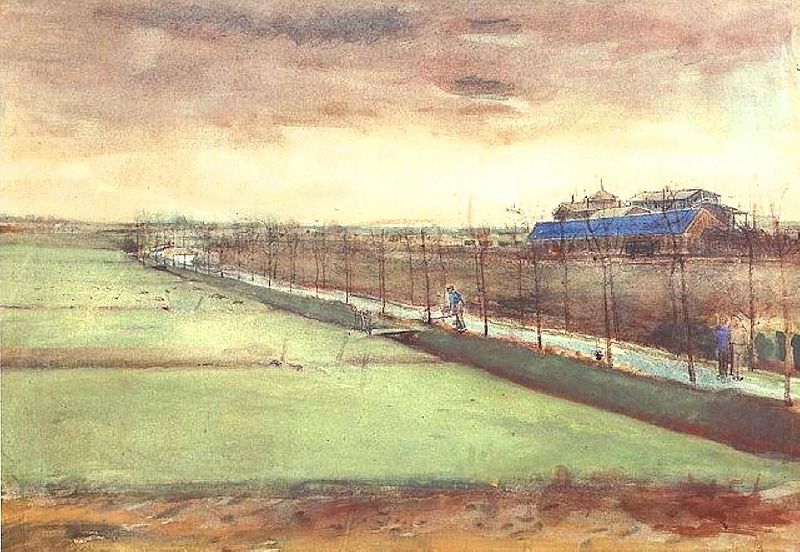 Van Gogh's 'Meadows near Rijswijk and the Schenkweg'
<< previous
|
next >>
Your Daily Dose of Van Gogh
What did Vincent van Gogh write on this day?
Find out in your
FREE Van Gogh e-book
.
Hundreds of questions answered by Van Gogh himself!