Did Van Gogh finish Millet's work?
Vincent van Gogh copied 21 of Millet's art works and many of them were drawings. Van Gogh himself often made a drawing as a study for a painting. Was that Millet's intention too? Did Millet simply lack time to paint the drawings he made? In that sense Van Gogh and Millet were a team in a historic chain of artists developing art in general. Van Gogh wrote about this in another
letter
.
Today 132 years ago, on or about 13 January 1890,
Vincent van Gogh wrote to Theo van Gogh from Saint-Rémy-de-Provence:
"The more I think about it the more I find that there's justification for trying to reproduce things by Millet that he didn't have the time to paint in oils. So working either on his drawings or the wood engravings, it's not copying pure and simple that one would be doing. It is rather translating into another language, the one of colours, the impressions of chiaroscuro and white and black. In this way I've just finished the three other 'times of the day' after the wood engravings by Lavieille."
Evening: The end of the day (after Jean-François Millet)
Saint-Rémy-de-Provence, 1889
Oil on canvas
72 x 94 cm
Menard Art Museum, Komaki, Japan
You may also like to read: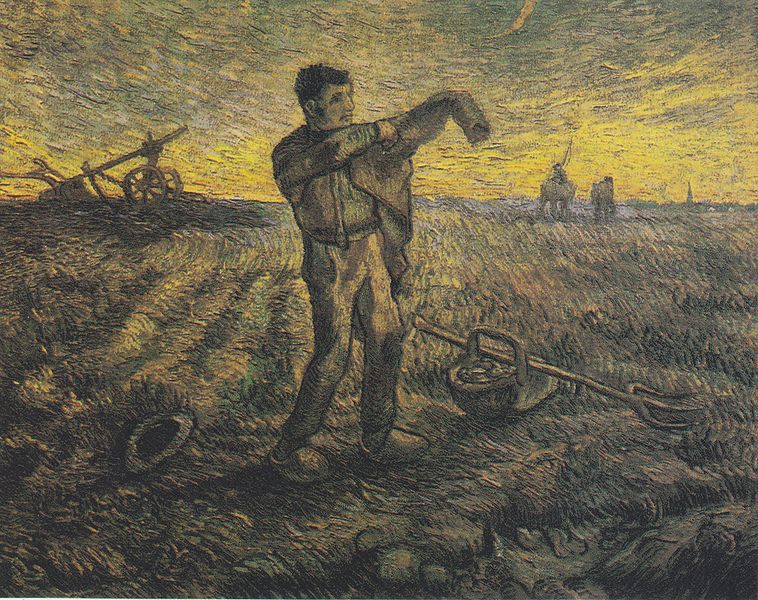 Van Gogh's 'Evening: The end of the day' (after Jean-François Millet)
<< previous
|
next >>
Your Daily Dose of Van Gogh
What did Vincent van Gogh write on this day?
Find out in your
FREE Van Gogh e-book
.
Hundreds of questions answered by Van Gogh himself!