Which paint colors did Van Gogh use?
Vincent van Gogh liked to paint with colors like yellow ocher, chrome yellow, cadmium yellow, chrome orange, vermilion, Prussian blue, ultramarine, lead white, zinc white, emerald green, red lake, red ocher, raw sienna.

Check out some extra colors he ordered during spring. They were urgent as the appearance of flowering trees wouldn't last long.
133 years ago, between about 14 and 17 April 1889,
Vincent van Gogh wrote to Theo from Arles:

"In the meantime I've been obliged to ask Tasset for 10 metres of canvas and a few tubes. Also I still need

12 zinc white large tubes
1 Emerald large tubes
2 Cobalt large tubes
2 Ultramarine large tubes
1 Vermilion large tubes
4 Veronese Green large tubes
3 Chrome I large tubes
1 Chrom II large tubes
2 Geranium lake medium tubes

I have 6 spring studies, including two large orchards. It's very urgent, because these effects are so fleeting."

Road with pollard willows
Arles, 1889
Oil on canvas
55 x 65 cm
Private collection

You may also like to read: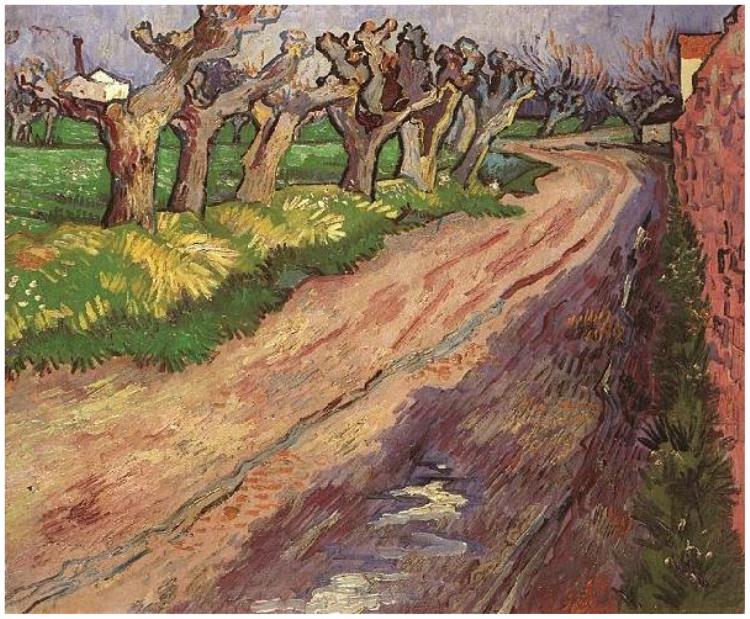 Van Gogh's 'Road with pollard willows'
<< previous
|
next >>
Your Daily Dose of Van Gogh
What did Vincent van Gogh write on this day?
Find out in your
FREE Van Gogh e-book
.
Hundreds of questions answered by Van Gogh himself!