How were Vincent van Gogh and Anton Mauve related?
Vincent van Gogh was Anton Mauve's cousin-in-law. Mauve was married to Van Gogh's cousin Ariëtte (Jet) Sophia Jeannette Carbentus. Her father Arie Carbentus was Vincent van Gogh's mother Anna Cornelia Carbentus' brother.
Today 140 years ago, on or about 18 October 1881,
Vincent van Gogh wrote to Theo from Etten:
"My dear Theo, Since Pa and Ma are writing, I'll enclose a few words, but hope to write to you soon in more detail, namely after Mauve's visit, who's going to Princenhage soon and will also come here."
7 years later Van Gogh painted Pink Peach Trees. In the evening of the day on which Van Gogh makes this painting, he finds a letter from his sister, who writes to tell him that Anton Mauve has died. This painter was not only his cousin by marriage; he also taught him to paint in oils and watercolour. Van Gogh decides to dedicate the work to him.
Pink Peach Trees / Souvenir de Mauve
Arles, 1888
Oil on canvas
73 x 60 cm
Kröller-Müller Museum
You may also like to read: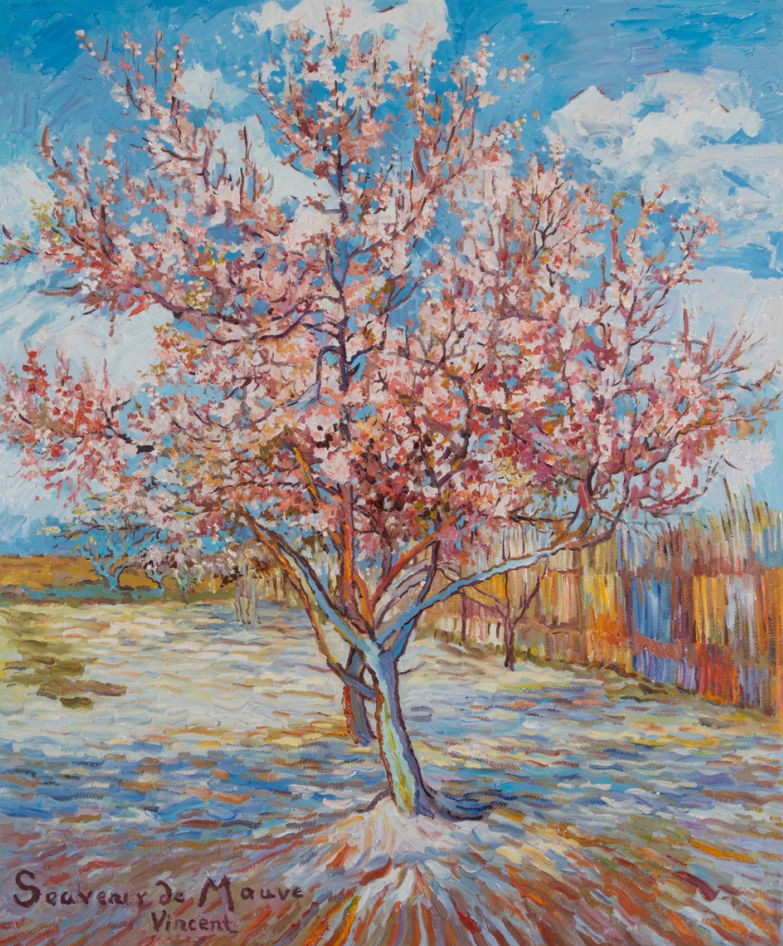 Our hand-painted reproduction of Van Gogh's '
Pink Peach Trees / Souvenir de Mauve
'
Your daily dose of Van Gogh.
<< previous
|
next >>