Which secret did Van Gogh learn from Gauguin?
Vincent van Gogh learned a lot from Paul Gauguin by discussing art and painting techniques. But Gauguin also taught Van Gogh a practical trick to reline his paintings. (Re)lining is the process of retouching paintings to strengthen, flatten or consolidate oil on canvas.
Today 134 years ago, on about 16 January 1889,
Paul Gauguin wrote to Vincent van Gogh from Paris:

"The grape harvests are totally covered in scales as a result of the white which has separated. I've stuck all of it back down using a process shown to me by the reliner. If I tell you about it it's because the thing is easy to do and can be very good for those of your canvases that need retouching – you stick newspapers on your canvas with flour paste. Once dry, you put your canvas on a smooth board and with very hot irons you press down hard on it. All the breaks in your colour will remain but will be flattened down and you'll have a very fine surface. Afterwards you soak your paper covering well and take off all the paper. That's largely the whole secret of relining."

The grape harvests refers to:

The Wine Harvest. Human Misery.
Paul Gauguin
Arles, 1888
Oil on jute sackclot
73,5 × 92 cm
Ordrupgaard Museum, Charlottenlund, Copenhagen

You may also like to read: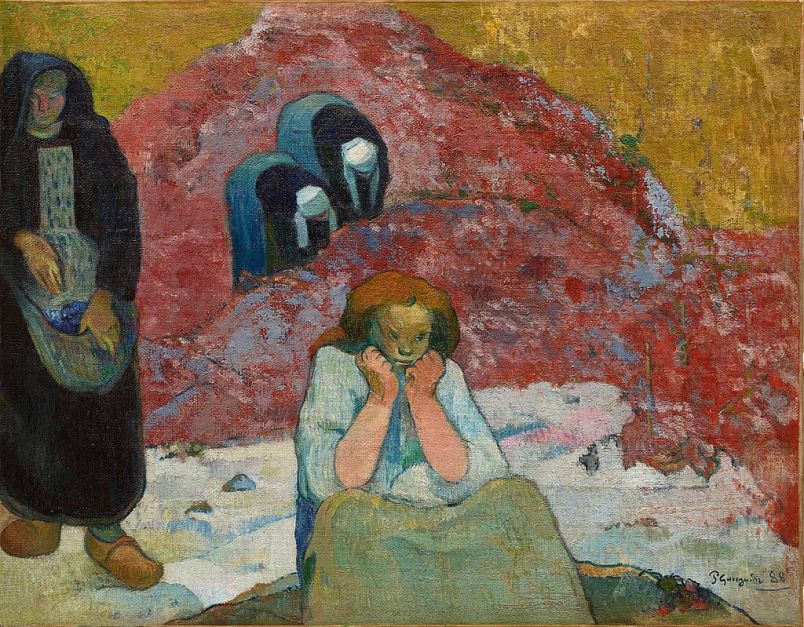 Gauguin's 'The Wine Harvest. Human Misery.'
<< previous
|
next >>
Your Daily Dose of Van Gogh
What did Vincent van Gogh write on this day?
Find out in your
FREE Van Gogh e-book
.
Hundreds of questions answered by Van Gogh himself!