Why did Van Gogh like the Mulberry Tree so much?
Vincent van Gogh moved into the asylum Saint-Paul-de Mausole near Saint-Rémy-de-Provence in May 1889 to recover from his severe mental state after he had he cut his ear off. He stayed in the
asylum
until May 1890. In this period he loved painting the beautiful nature around him. He didn't have to travel far to find beauty.
In October 1889 Van Gogh wrote his brother Theo about a Mulberry Tree in the garden of the asylum:
"I'll tell you that we're having some superb autumn days, and that I'm taking advantage of them. I have a few studies, among others a mulberry tree, all yellow on stony ground standing out against the blue of the sky, in which study I think that you'll see that I've found Monticelli's track."
Monticelli's impasto
Van Gogh was an admirer of Monticelli's thickly applied paint (impasto) and Van Gogh's brushstrokes became thicker towards the end of his career. The Wheat Field with crows, one of his last paintings is a good example of his use of impasto. Van Gogh's painting of the Mulberry Tree was a step into this direction. Just like his
Cypresses
painting a few months later.
To Theo about his painting 'cypresses'. in February 1890:
"I think you'll like the canvas for Mr Aurier, it's in terribly thick impasto and worked like certain Monticellis, I've kept it for almost a year."
Did Van Gogh identify with the Mulberry Tree?
In his letter to his sister Willemien in December 1889:
"As regards mulberry trees, there are a lot here. I painted one not long ago when its bushy foliage was a magnificent yellow against a very blue sky and a white, stony, sunlit field behind."
Considering his mental state at the end of 1888 in Arles where he cut his ear off, and the happy letters from the asylum later in the asylum.. could Van Gogh perhaps have identified with the Mulberry Tree? How could something so beautiful grow out of a rocky terrain? Did this tree give him hope? Was it the tree that made him strong? Was it his intense love for nature that made him paint no less than 130 paintings in his time in the asylum?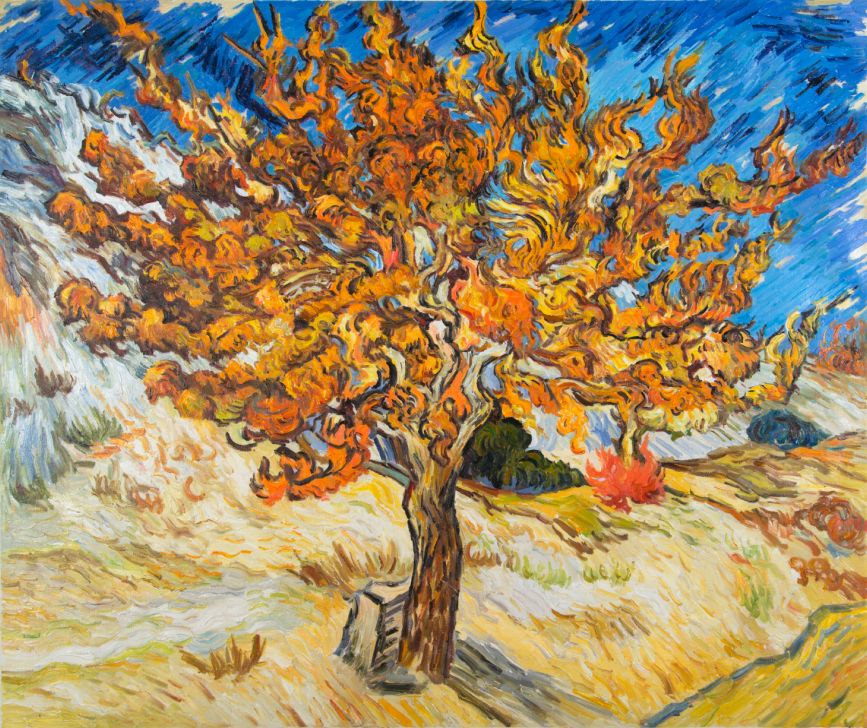 Our hand-painted reproduction of the
Mulberry Tree
in oil on canvas.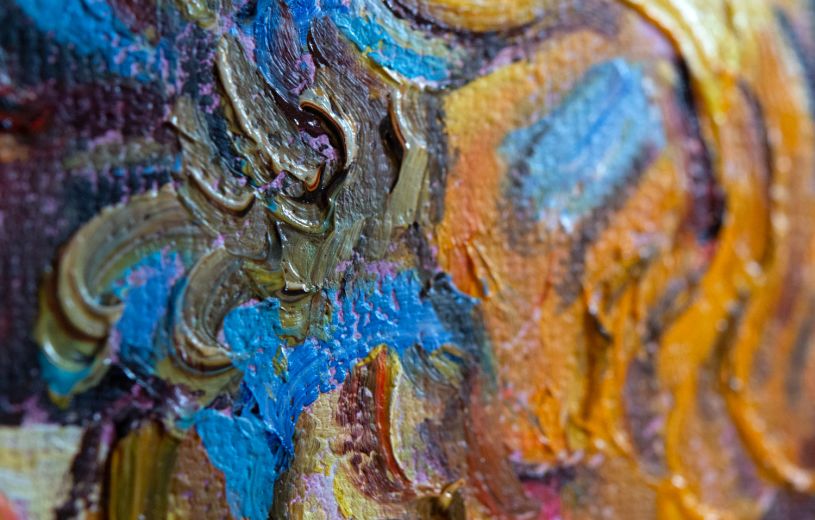 Van Gogh's style of impasto in our hand-painted replica of the
Mulberry Tree
Van Gogh's Mulberry Tree in your home
Do you like mulberry trees as much as Van Gogh did? We like painting them close to his original painting. You'll find more info and options to order in seveal sizes on
this page
.
You may also like to read:
marilia e daniel Alberto
- 13-12-2021
Belíssima aula você nos presenteou, como meu esquecido inglês está um pouco esquecido.; mas deu para entender tudo. Mais uma aula brilhante querida amiga, Obrigada e bjs