Why did Van Gogh love Japan?
Vincent van Gogh was highly influenced in his artistic creations by Japanese artists like Hiroshige. But he also loved the way the Japanese lived in harmony with nature.
Today 163 years ago, on 12 October 1858,
Japanese artist Hiroshige (1797 - 1858) died.
Van Gogh was influenced by Millet, Monet, Gauguin and many others, but most of all perhaps by Hiroshige.
"Isn't it almost a new religion that these Japanese teach us, who are so simple and live in nature as if they themselves were flowers? And we wouldn't be able to study Japanese art, it seems to me, without becoming much happier and more cheerful, and it makes us return to nature, despite our education and our work in a world of convention." - Vincent van Gogh
Bridge in the Rain
- after Hiroshige
Paris, 1887
Oil on canvas
73 x 54 cm
Van Gogh Museum, Amsterdam
You may also like to read: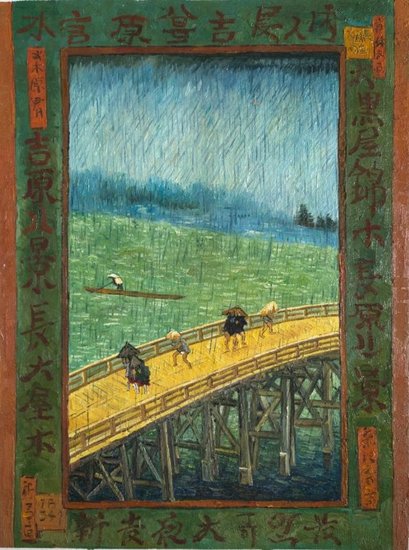 Our hand-painted reproduction of Van Gogh's '
Bridge in the Rain
'
Your daily dose of Van Gogh.
<< previous
|
next >>