Did the mistral wind bother Van Gogh?
The strong and cold Mistral wind bothered Vincent van Gogh a lot when he lived in the Provence. The Mistral made it impossible to paint most of the time, despite Van Gogh trying to attach his easel to the ground.
Vincent often decided to just wait or to make a drawing instead. Until the moment the sun was to set. The Mistral would die down and the colors became magical. Just what Vincent needed to create a masterpiece.
Today 132 years ago, on or about 20 December 1889,
Vincent van Gogh wrote to Theo from Saint-Rémy-de-Provence:
"I shake your hand warmly in thought, I'm going to work some more outside, the mistral's blowing. It usually dies down by the time the sun's about to set, then there are superb effects of pale citron skies, and desolate pines cast their silhouettes into relief against it with effects of exquisite black lace. At other times the sky is red, at other times a tone that's extremely delicate, neutral, still pale lemon but neutralized by delicate lilac. I have an evening effect of a pine again against pink and green-yellow."
Pine Trees against a Red Sky with Setting Sun
Saint-Rémy-de-Provence, 1889
Oil on canvas
92 x 73 cm
Kröller-Müller Museum, Otterlo, The Netherlands
You may also like to read: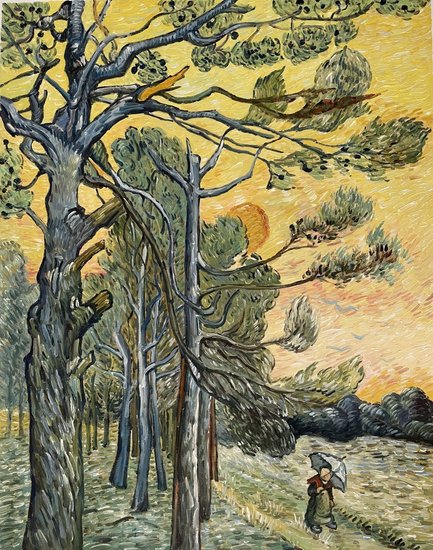 Our hand-painted reproduction of Van Gogh's '
Pine Trees against a Red Sky with Setting Sun
'
Your daily dose of Van Gogh.
<< previous
|
next >>