Did Van Gogh copy other artists?
Vincent van Gogh copied work from Utagawa Hiroshige, Jean-François Millet, Rembrandt, Emile Bernard, Virginie Demont Breton, Honoré Daumier, Eugène Delacroix, Gustave Doré, Keisai Eisen and Jacob Jordaens.
Today 132 years ago, on 20 September 1889,
Vincent van Gogh wrote to Theo from Saint-Rémy-de-Provence:
"Although copying may be the old system, that absolutely doesn't bother me at all…
What I'm seeking in it, and why it seems good to me to copy them, I'm going to try to tell you. We painters are always asked to compose ourselves and to be nothing but composers. Very well – but in music it isn't so – and if such a person plays some Beethoven he'll add his personal interpretation to it – in music, and then above all for singing – a composer's interpretation is something, and it isn't a hard and fast rule that only the composer plays his own compositions."
Noon – Rest from Work (after Millet)
Oil on canvas
73 x 91 cm
Musée d'Orsay, Paris
You may also like to read: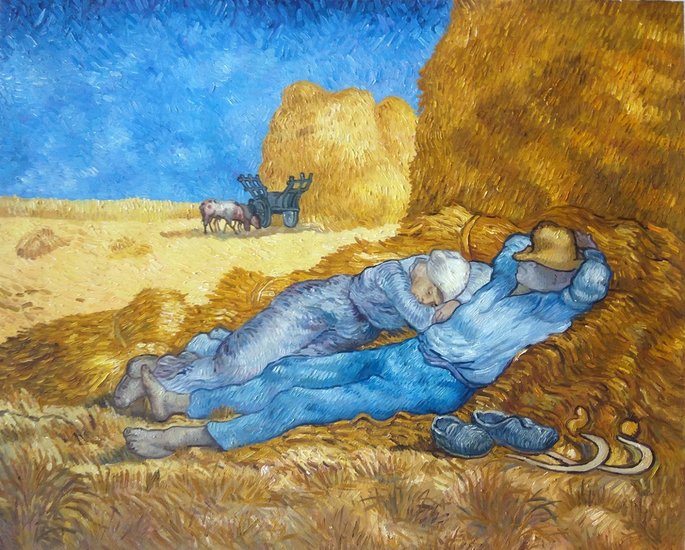 Our hand-painted copy of Van Gogh's copy of Millet's
'Noon – Rest from Work'
.
<< previous
|
next >>
Your Daily Dose of Van Gogh
What did Vincent van Gogh write on this day?
Find out in your
FREE Van Gogh e-book
.
Hundreds of questions answered by Van Gogh himself!