Did Van Gogh paint at home?
Vincent van Gogh either painted and finished a painting outside, or he started the painting outside and finished it at home, or he did the whole painting at home. His brushstrokes were usually longer and more organic when the painting was done outside.
Today 134 years ago, on 7 May 1888,
Vincent van Gogh wrote to Theo from Arles:

"There's a small landscape with a tumbledown house in white, red, green and a cypress beside it — you have the drawing of it and I painted it entirely at home. That should prove to you that if it suited you, I could make little paintings like Japanese prints out of all these drawings."

Landscape with a path and pollard willows
Arles, 1888
Oil on canvas
31 x 38.5 cm
Private collection

You may also like to read: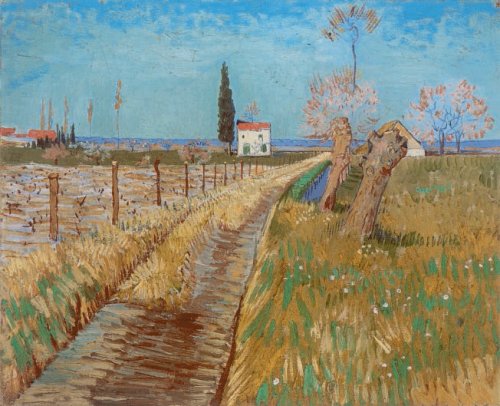 Van Gogh's 'Landscape with a path and pollard willows'
Your daily dose of Van Gogh.
<< previous
|
next >>