Follow in Van Gogh's footsteps in Auvers-sûr-Oise
If you enjoyed to follow in Van Gogh's footsteps in
Nuenen
and in the
South of France
, then you may also want to discover the locations in Auvers-sûr-Oise where Van Gogh painted his last masterpieces.
Get ready for an emotional experience in Vincent's bedroom in Auberge Ravoux where he died. Let's see if you can keep your eyes dry looking at the two brothers resting in peace at the cemetery next to Vincent's beloved wheat fields.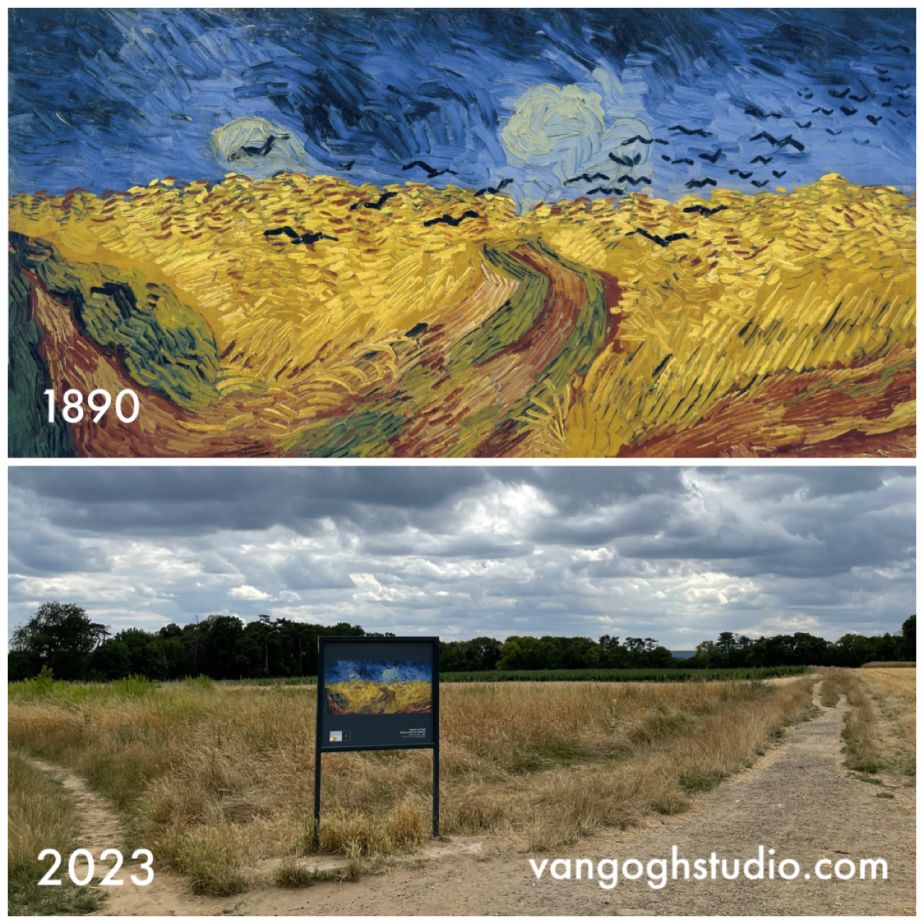 Wheat Field with Crows
The cemetery at Avenue du Cimetière would be a good starting point. The impact of Van Gogh's life story on even very young people becomes clear when you witness how they greet Vincent's grave. From there you can go into Sente du Montier and after about 200 meters you are at the spot where
Wheat Field with Crows
was painted.
Around the 15th of July the wheat is harvested. The weeks leading up to that time will offer you the closest resemblance to the wheat fields depicted in the paintings.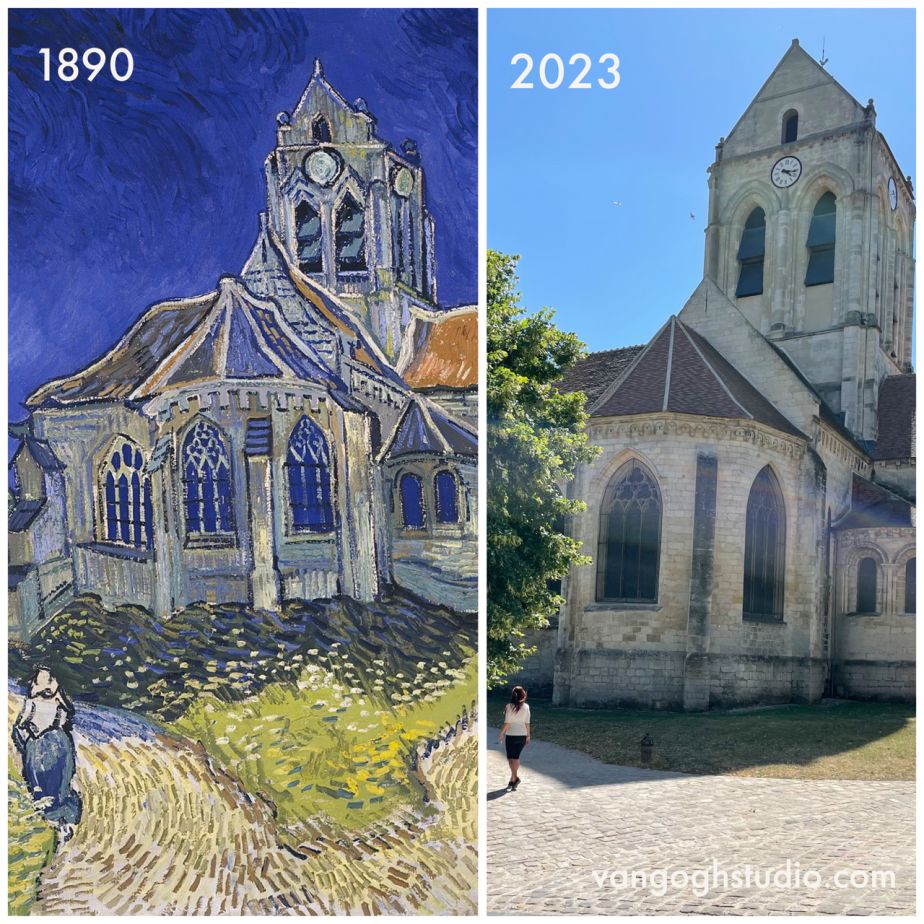 Church at Auvers
Auvers-sûr-Oise is not touristic. Even in summer you will have plenty of opportunity to have a quiet view on the
church
at Place de l'Eglise like Van Gogh had. And with a bit of luck the weather also provides you Van Gogh's "effect in which the building appears purplish against a sky of a deep and simple blue of pure cobalt".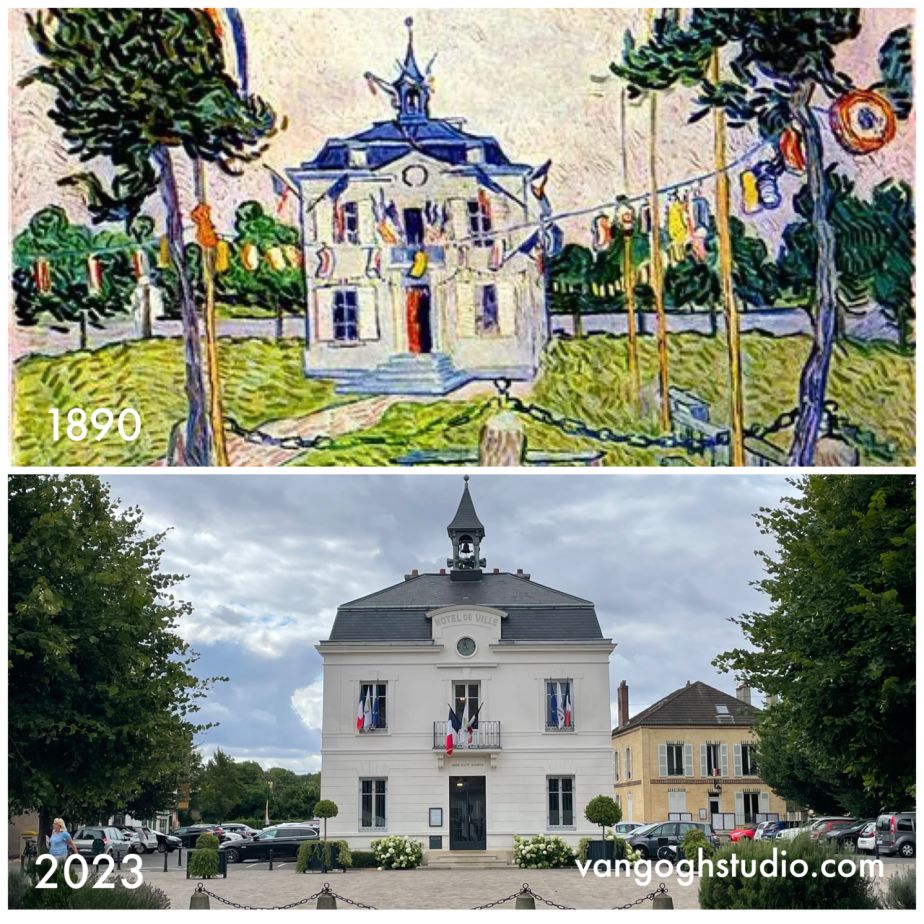 Town Hall
Bastille Day or July 14th is a special holiday in France. They remember the day when people stormed the Bastille on July 14, 1789. This event was part of the French Revolution. Van Gogh painted the Town Hall of Auvers-sûr-Oise on July 14th 1890, with its celebration flags. The Town hall is at 17 Rue du Général de Gaulle and Van Gogh lived at the same square above Auberge Ravoux.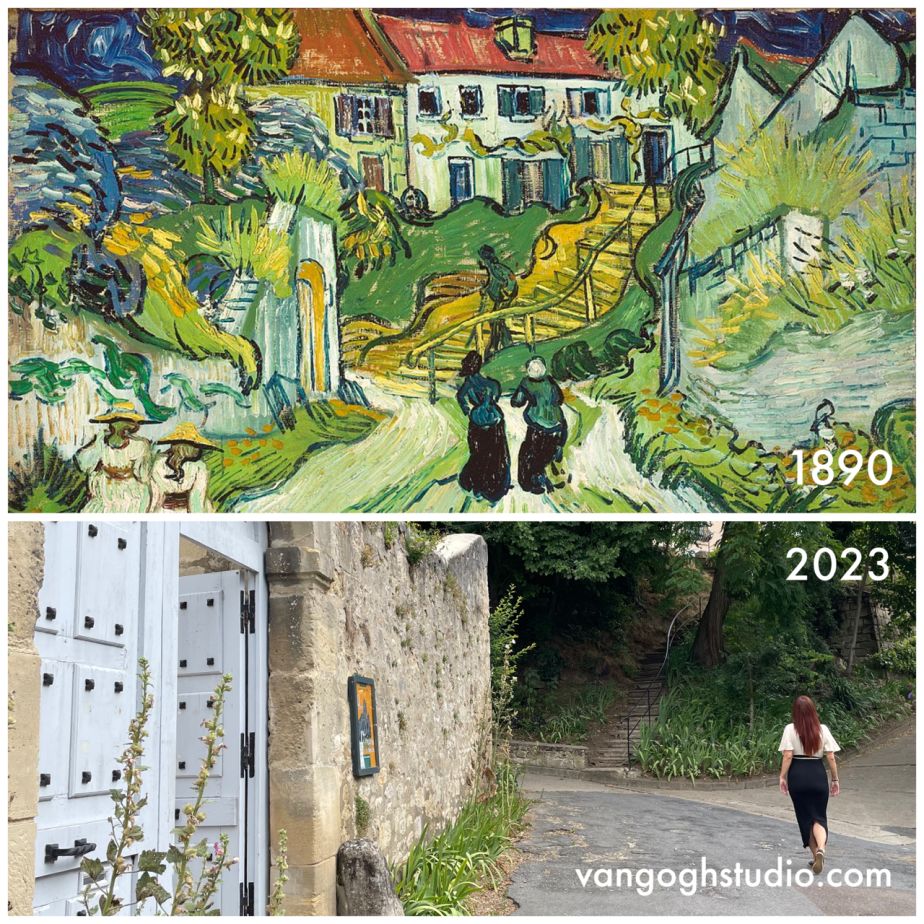 Street and stairs with five figures
Left from Auberge Ravoux you'll find a little street called Rue de la Sansonne. At the end you see the stairs that Van Gogh painted. You will pass Musée Daubigny, but this is not where Van Gogh painted Daubigny's Garden. Scroll down for the location of those paintings.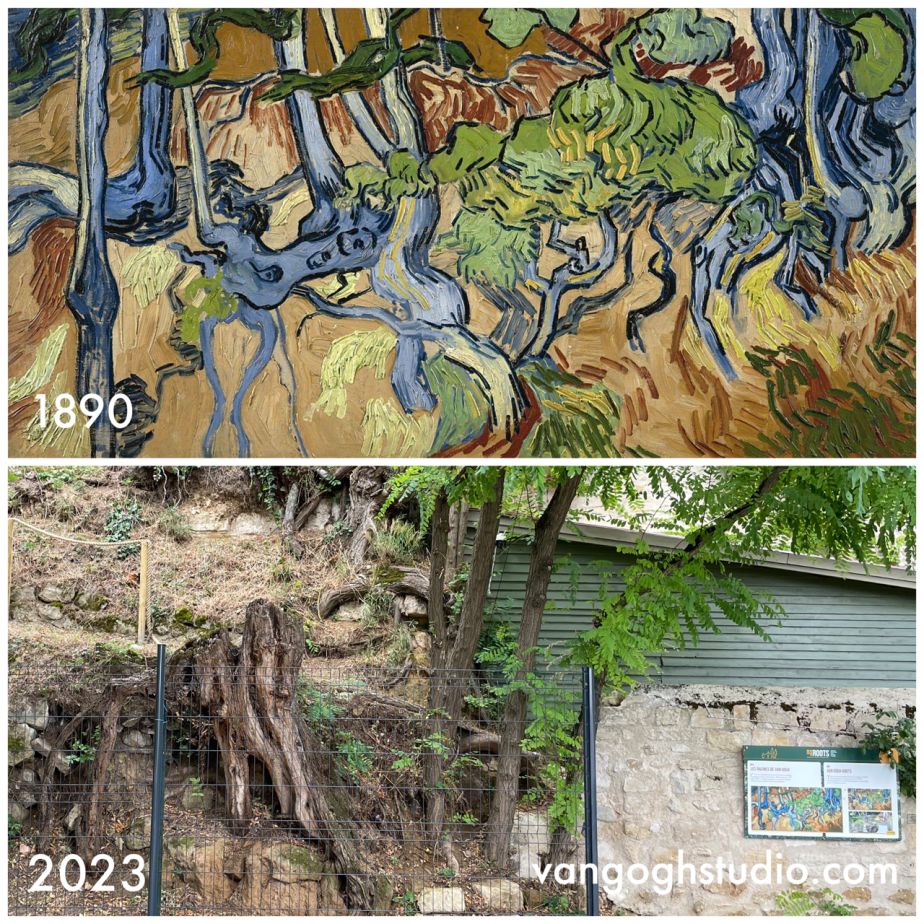 Tree Roots
If you climb the stairs you'll get to Rue Daubigny and at number 46 you can see what is left of the actual
tree roots
that Van Gogh painted in the morning of the day he shot himself. Long believed to be Van Gogh's development towards abstract art turned out to be tree roots painted in his typical style. It would be his last painting. The location was discovered in 2020 when a striking resemblance in an old postcard was spotted.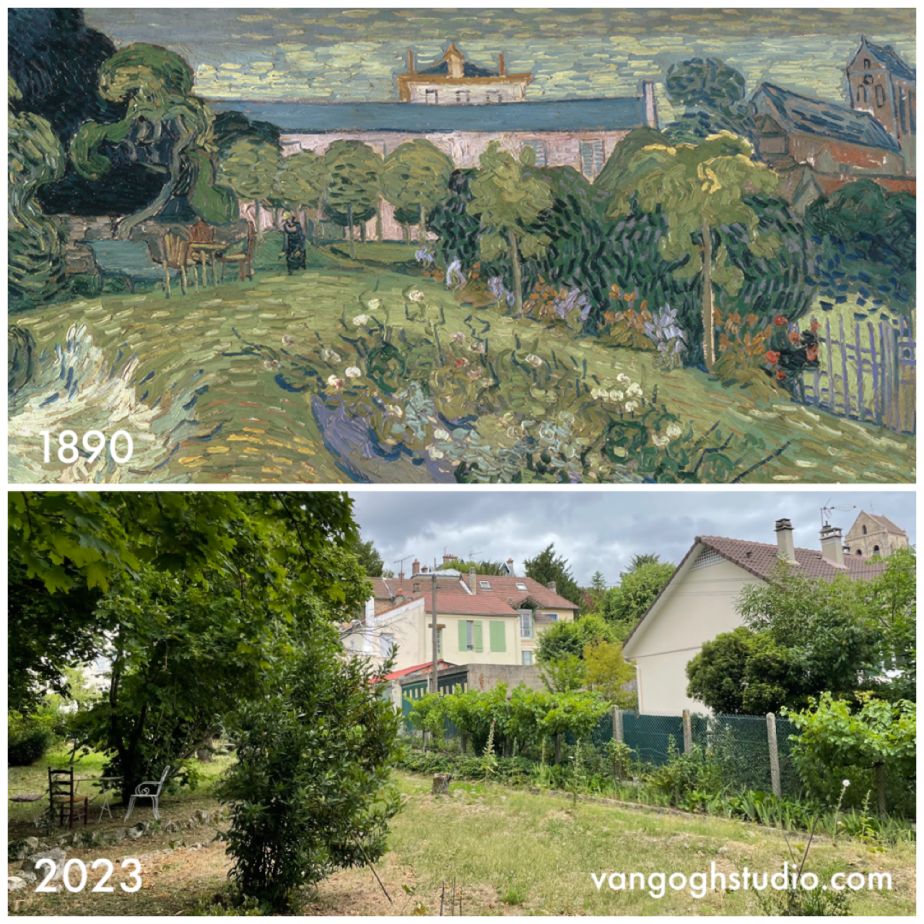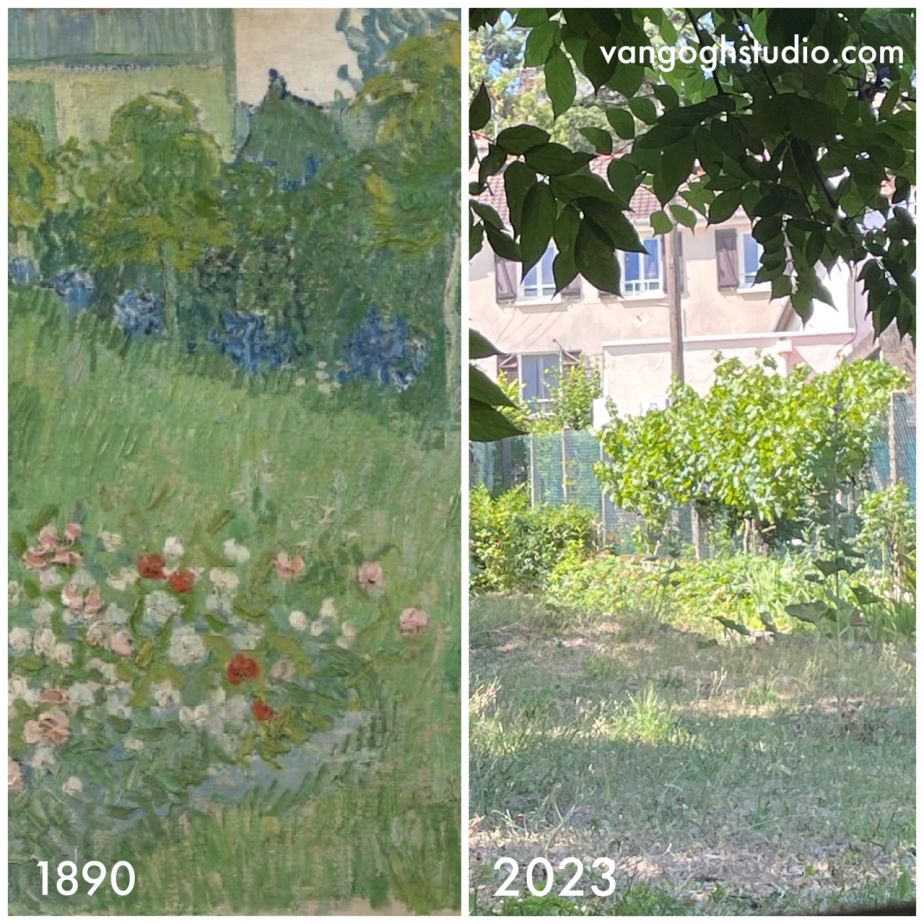 Daubigny's Garden
The
garden
that Van Gogh painted several times is located at 24 Rue du Général de Gaulle. It is private property now with a closed fence. We are grateful to the owners who let us take some photos close to the angles that Van Gogh chose to paint this beautiful garden. Daubigny's house has changed but you can spot the church at the top right and even the garden furniture set on the left seems still in place after 133 years ;)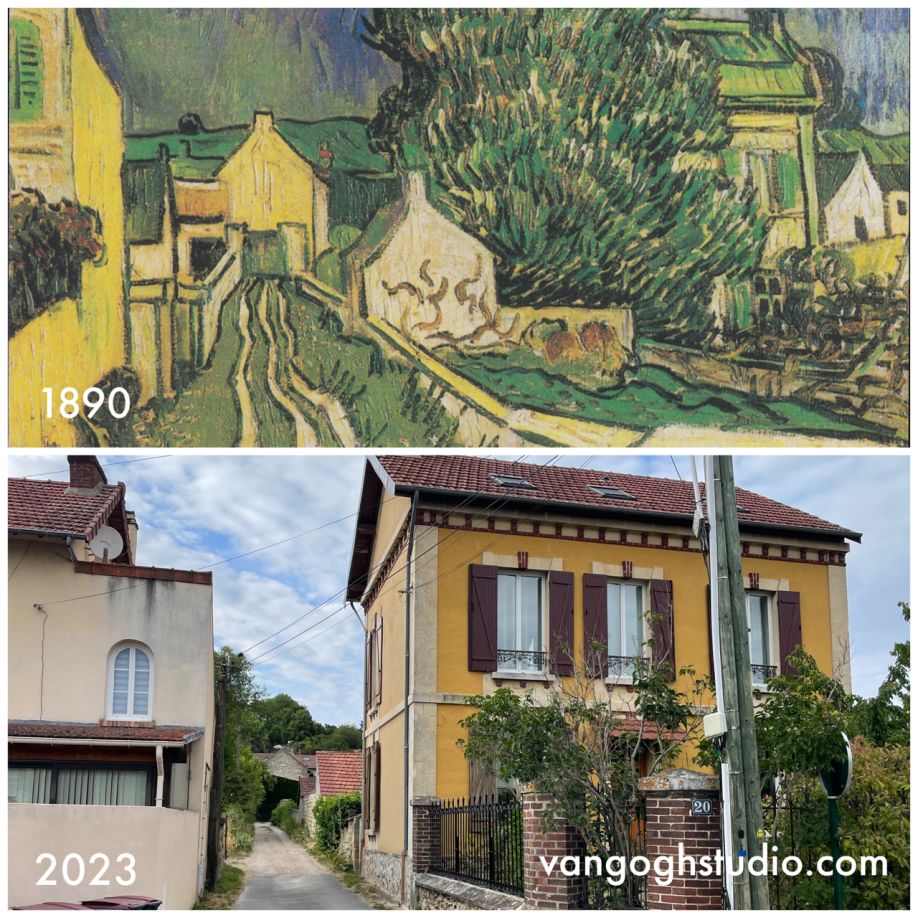 The House of Père Pilon
Père Pilon owned an impressive modern villa at 18 rue Francois Villon. Just after arrival in Auvers-sûr-Oise Van Gogh wrote that he enjoyed these villas nearly as much as the thatched cottages of Auvers. He painted the large chestnut tree in front of it in another painting as a separate subject.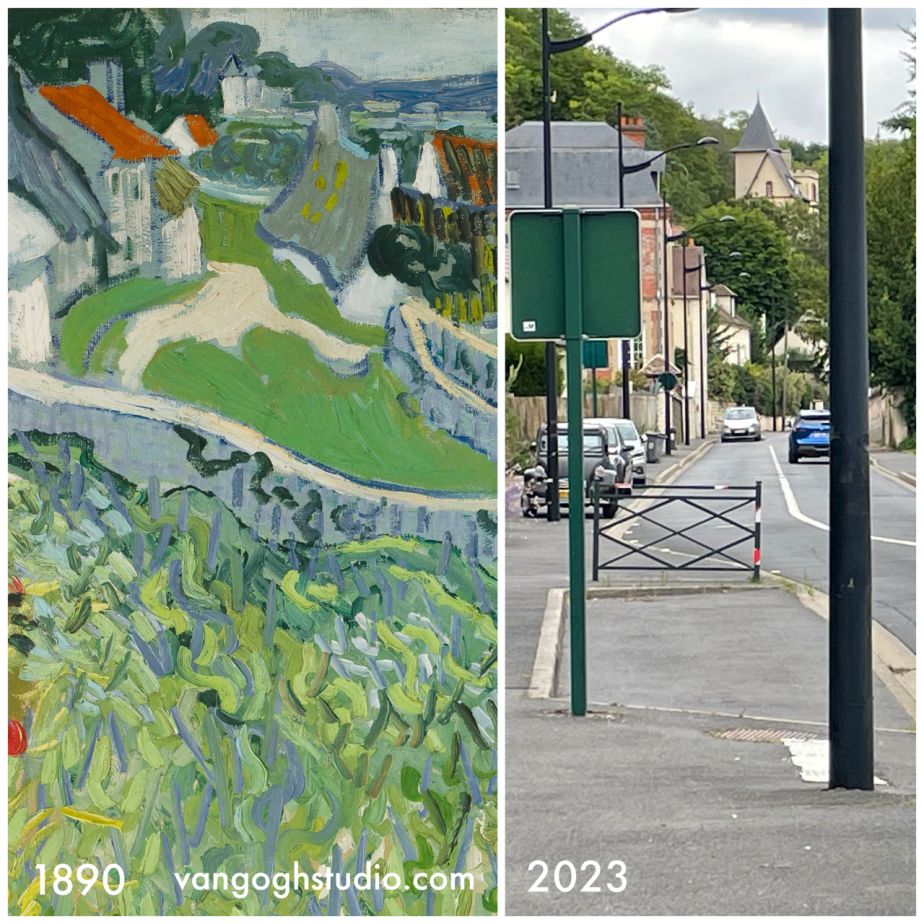 Vineyards at Auvers
From 1790 to 1892 there were no less than 46 wine growers in Auvers-sûr-Oise. Vincent van Gogh may have painted 'Vineyards at Auvers' from what is now 71 Rue de Pontoise. The view has changed completely, but in the top left you can see a house with a tower. It still exists, at 21 Rue des Ruelles.
Farmhouse with Two Figures
This location is a little further away from the center of Auvers-sûr-Oise, but possible to visit without a car. At a 45 minute walk from Auberge Ravoux at 8-10 Rue du Valhermeil Van Gogh painted these two houses. The thatched roofs have gone but this is still a charming neighborhood.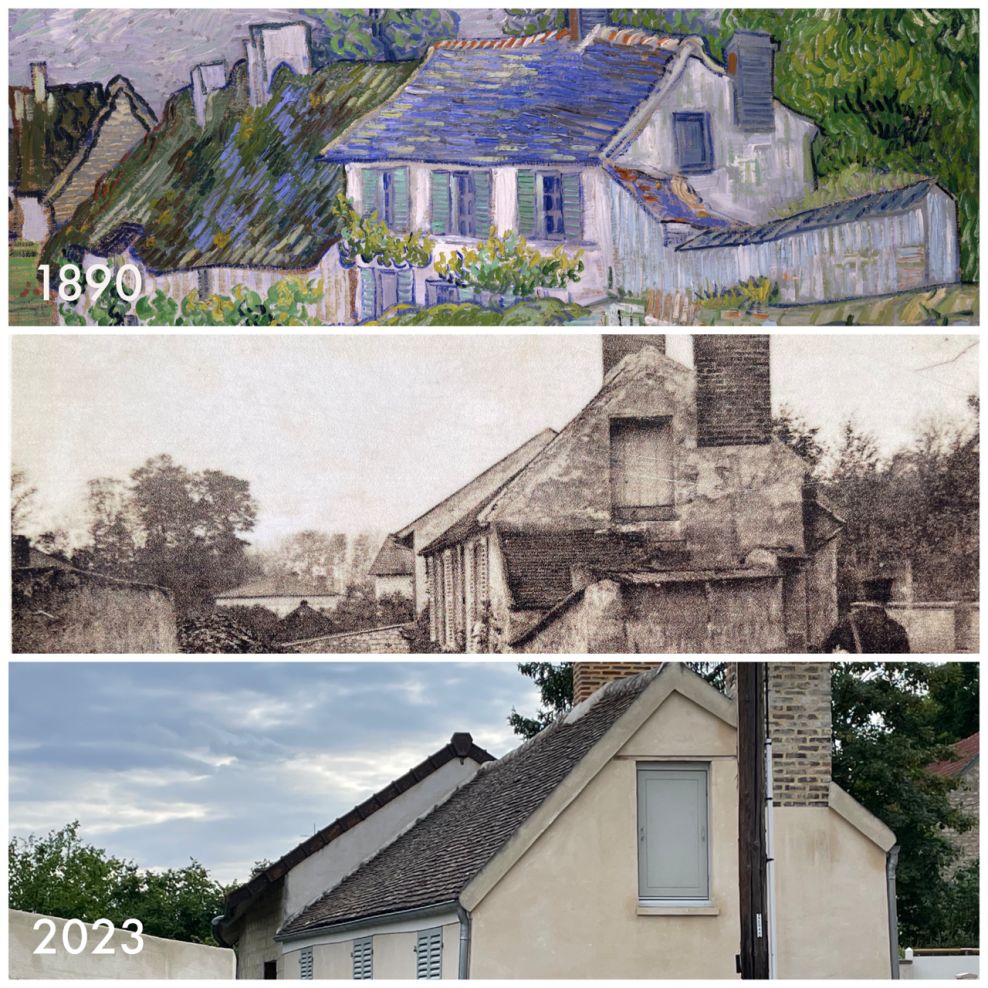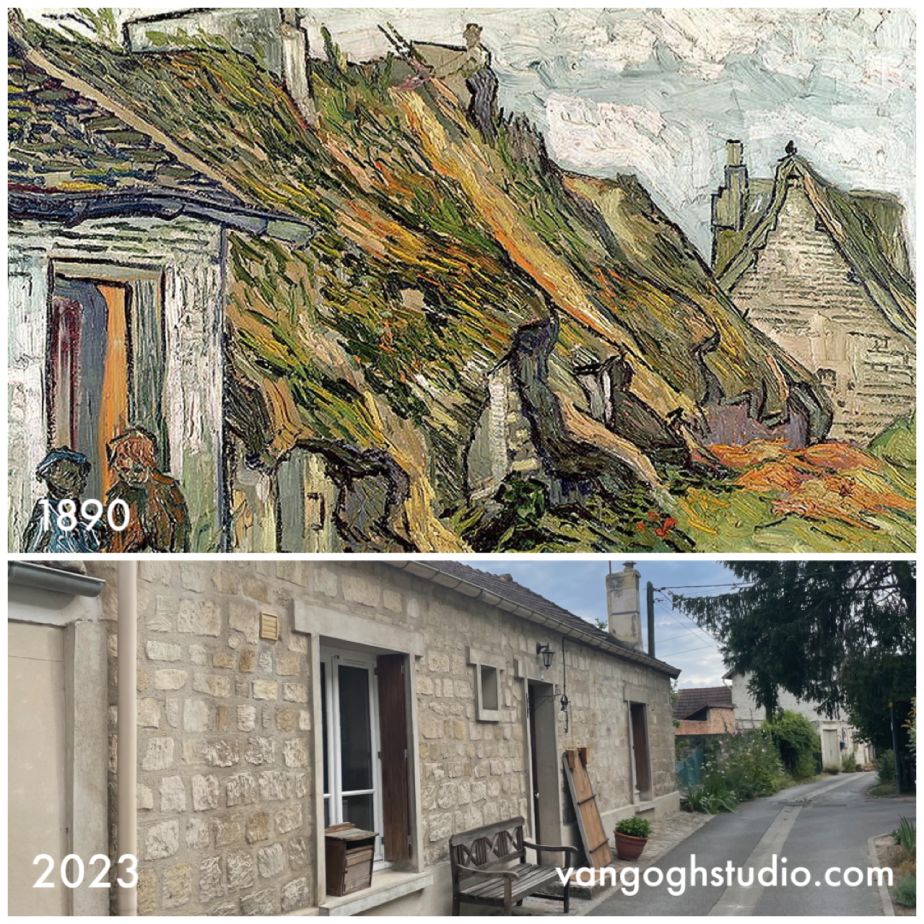 Houses in Auvers-sur-Oise and Thatched Cottages in Auvers
Unfortunately the house of Dr Gachet was not open for visits during the summer of 2023. Gachet's garden with his daughter Marguerite was beautifully painted by Van Gogh. But nearby at 7 and 9 Rue du Gré two other gems of painted locations can be discovered instead.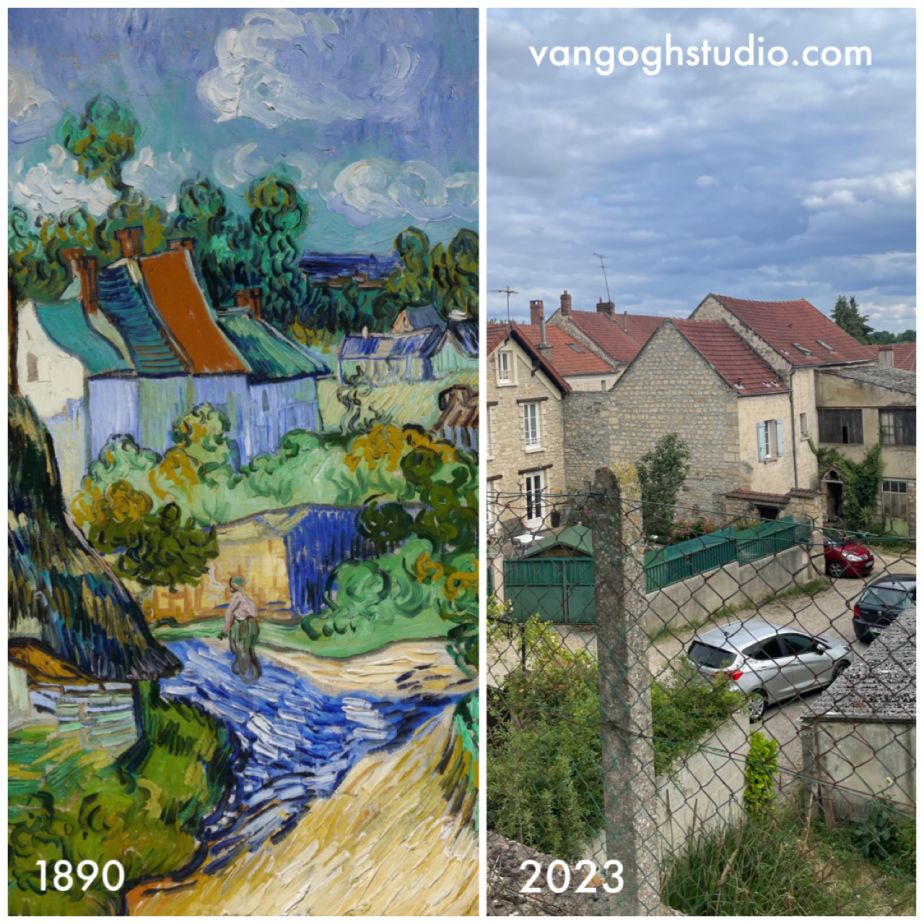 Houses at Auvers
A 6 minute walk from there brings you to 29-31 Rue Francois Coppée and the angle Van Gogh painted this
group of houses
at becomes clear. Imagine the cars were still trees and you not only come closer to what Van Gogh saw, but it may also make you wonder if innovation creates a more beautiful world.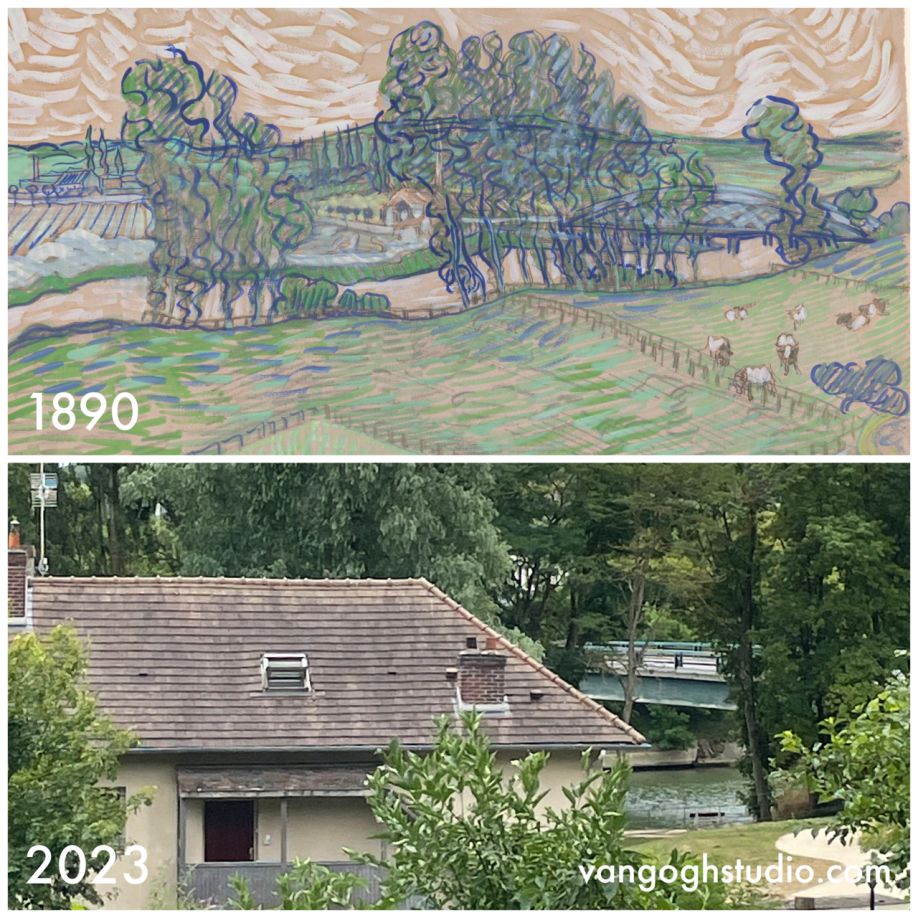 Landscape with Bridge across the Oise
On the way back to the center of Auvers you can visit Chateau d'Auvers and its beautiful garden. Don't expect to find the location of Van Gogh's Landscape at Twilight here. We'll get there later and surprisingly far away from here. Before crossing the bridge and the river Oise at 66 Rue Rajon you can spot a glimpse of Van Gogh's Landscape with Bridge across the Oise.
The view has changed. Auvers-sur-Oise is still a small town, but it was nearly 4 times smaller in 1890 with about 2000 inhabitants and Van Gogh must have enjoyed the peace of this town after his 3 day visit to busy Paris. Back to nature that he loved so much around the asylum in Saint-Rémy-de-Provence.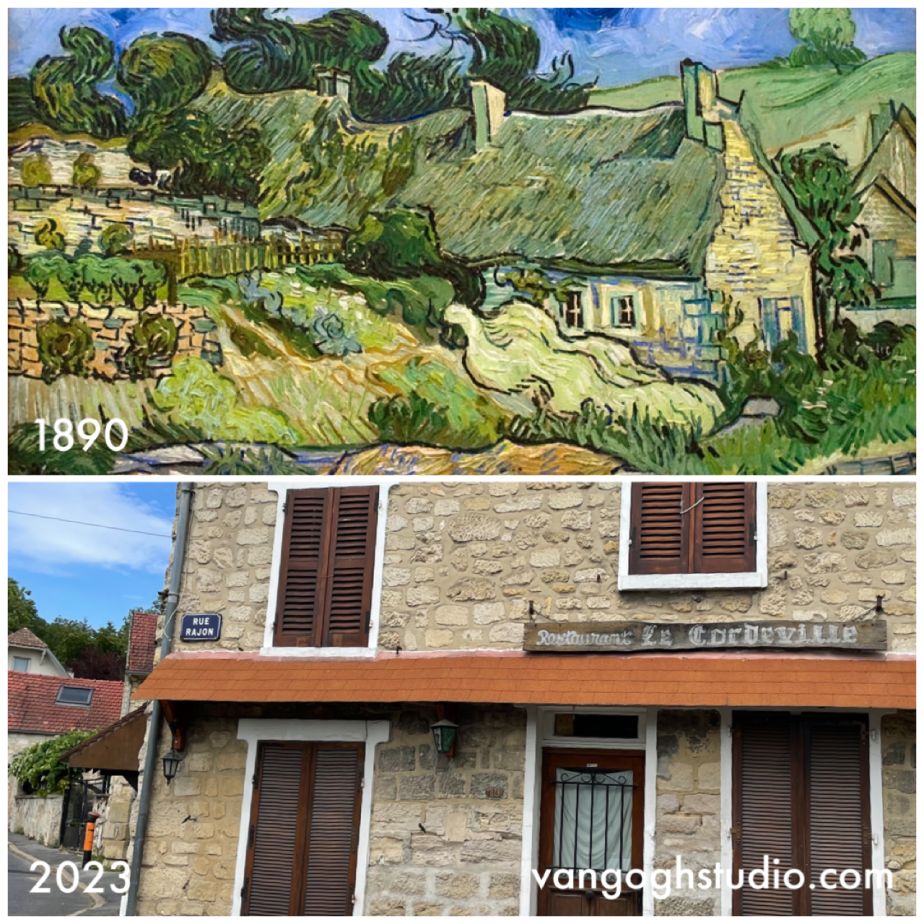 Thatched Cottages at Cordeville
650 meters further at 18 Rue Rajon is Restaurant Le Cordeville that closed down. The area where Van Gogh painted the
thatched cottages
is now part of Auvers-sûr-Oise, but Cordeville was a hamlet near Auvers in 1890.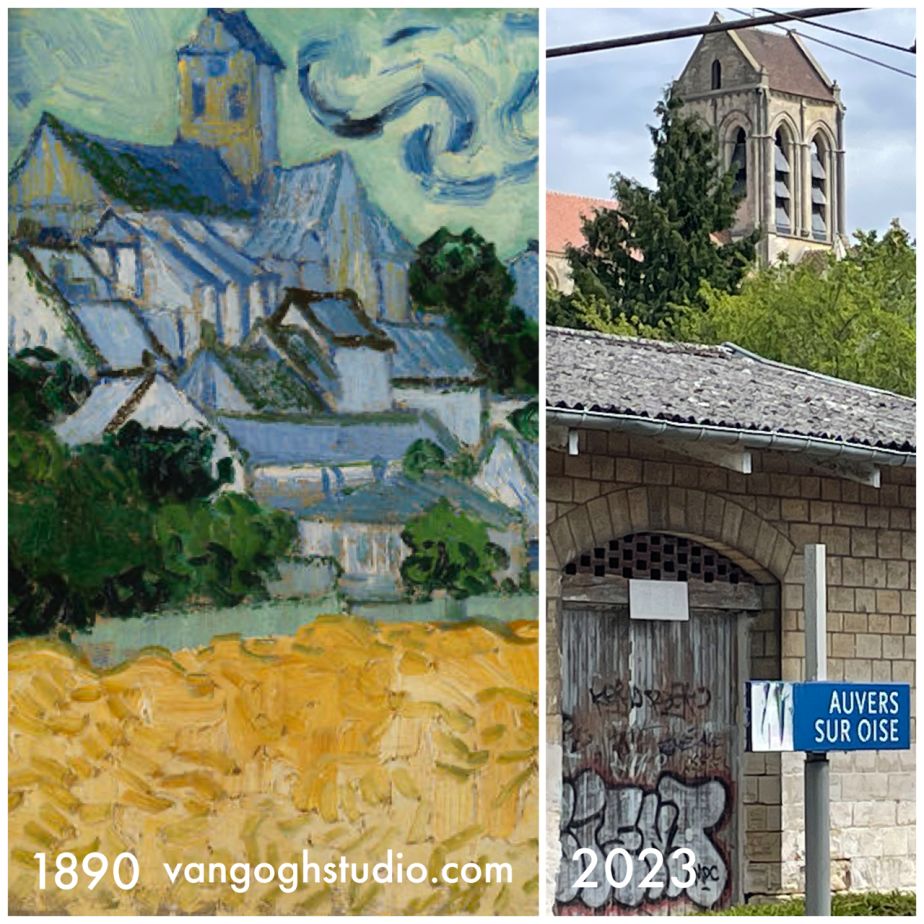 Face of Auvers-sur-Oise
2 Rue Montmaur is now a parking lot near the train station of Auvers. Is the artist of this graffiti ahead of his time and will he be as famous as Van Gogh one day? Probably not. It makes the wheat field in the foreground of Van Gogh's painting even more beautiful. Fortunately impressive fields of wheat and rapeseed are still everywhere around Auvers.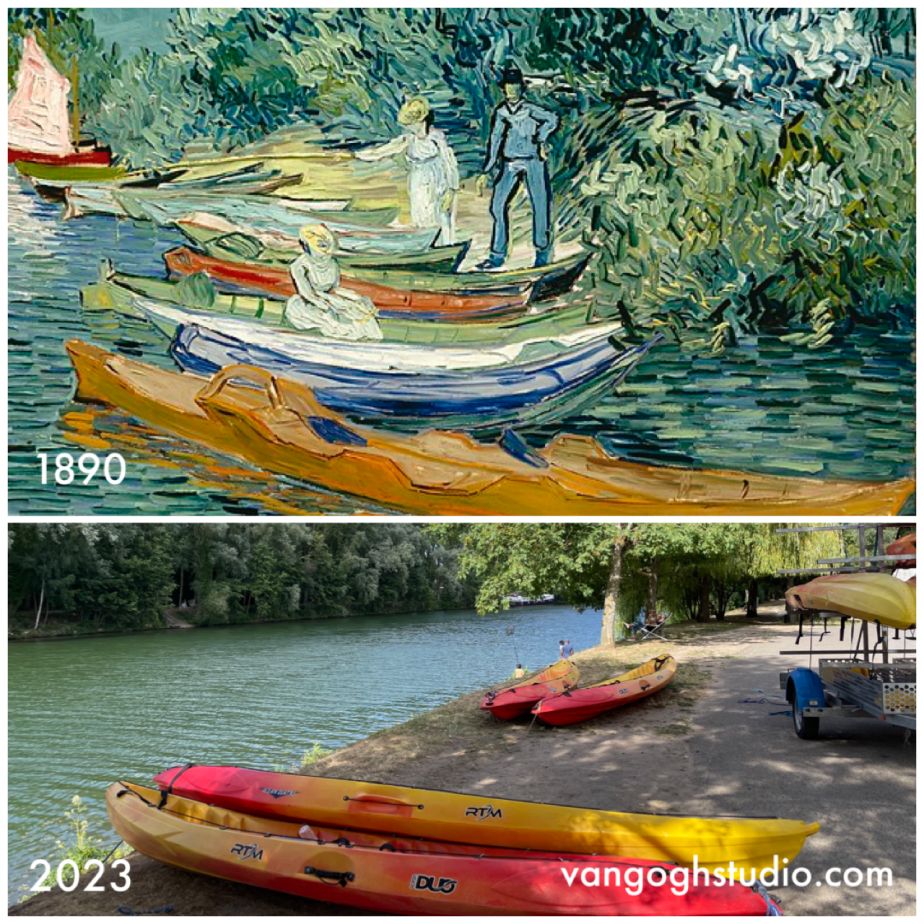 On the Banks of the Oise at Auvers
Time to cross the bridge and visit Méry-sur-Oise for a few more of Van Gogh's painting locations. Au pied du pont d'Auvers, Chemin de Halage, Méry-sur-Oise may not be the exact spot of the boat rental that Van Gogh painted in 1890, but it's not hard to imagine the joyful scene back then when you see the colorful modern canoes going into the
green river Oise
.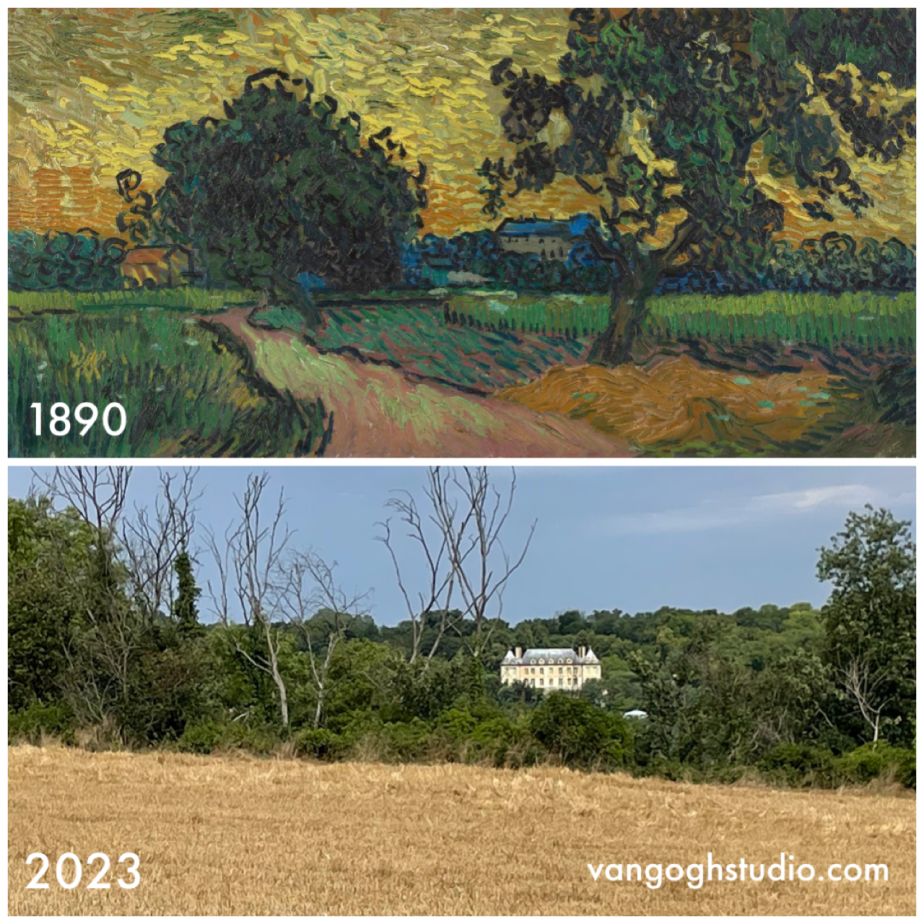 Landscape at Twilight
Another 30 minute walk to 1 Route de Pontoise, Méry-sur-Oise and this must be the spot where Van Gogh painted
Landscape at Twilight
. It reveals that the small castle in the background of the painting can not be reached by just walking towards it. The river Oise is in between and the castle is actually at great distance.
Did Van Gogh walk all this way with his easel? He must have been strong. No wonder Jo van Gogh-Bonger was surprised to see Vincent was so fit compared with her husband Theo. Especially after hearing so many stories of Vincent's suffering in the asylum.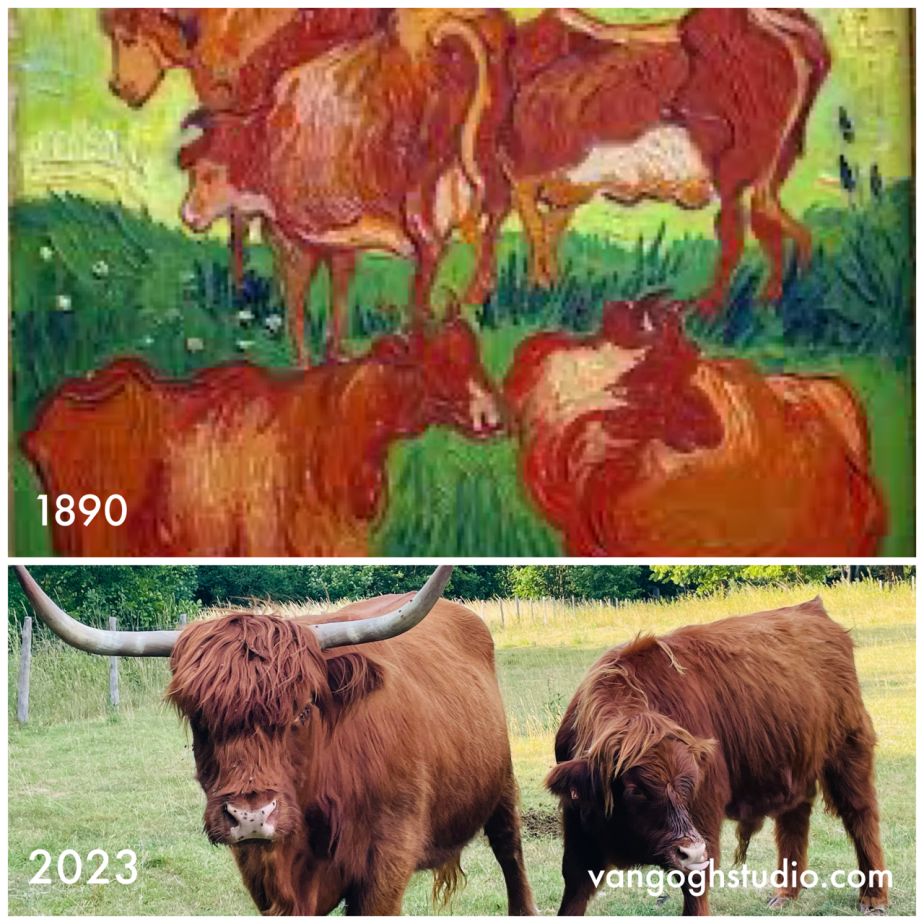 Cows
Two more locations left, but not the exact locations where Vincent painted. So nice to see the same breed of
cows
Van Gogh painted though! When you visit Château de Méry sur Oise at 9 bis Rue de l'Isle Adam in Méry-sur-Oise you may catch this mother and son.
Van Gogh may not have seen cows at all actually. His painting was based on an 1873 etching by Paul van Ryssel (Dr Gachet's artist's name), who on his turn copied a 17th century study by Jacob Jordaens.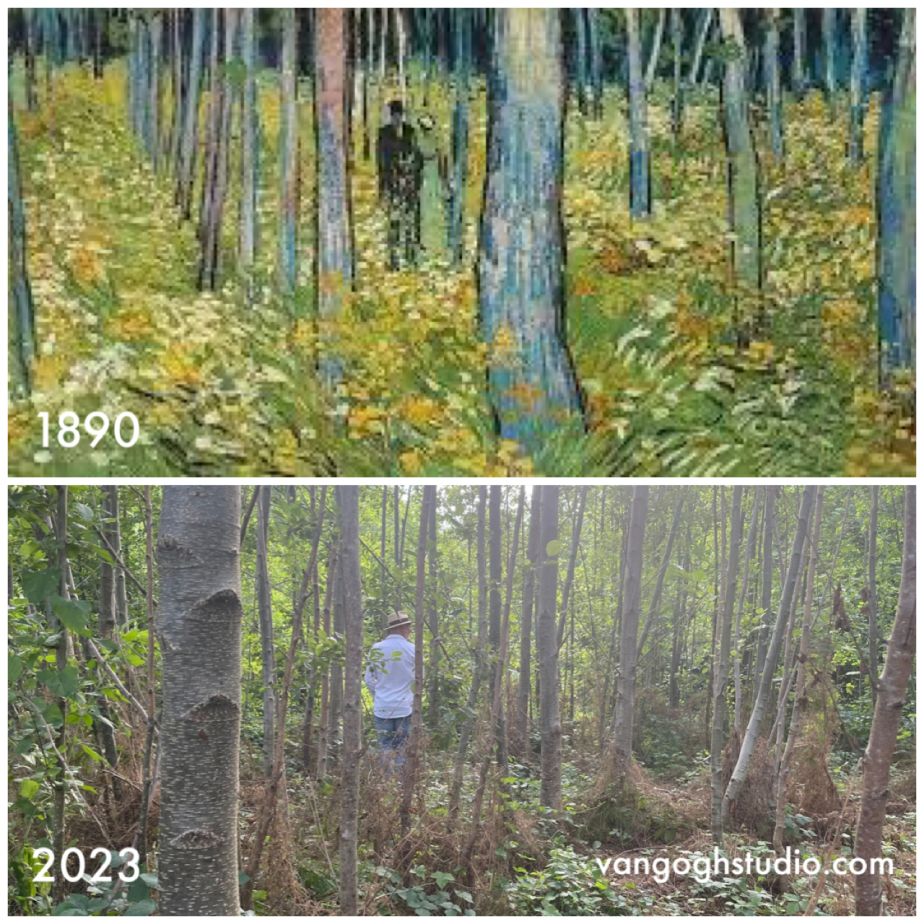 Undergrowth with Two Figures
We didn't locate Van Gogh's poplar forest either. But when you got to go, you got to go and the idea of a somewhat claustrophobic scene with two mysterious people floating.. well sometimes a situation reminds you of a painting when Van Gogh is always on your mind. The cows didn't seem to bother much.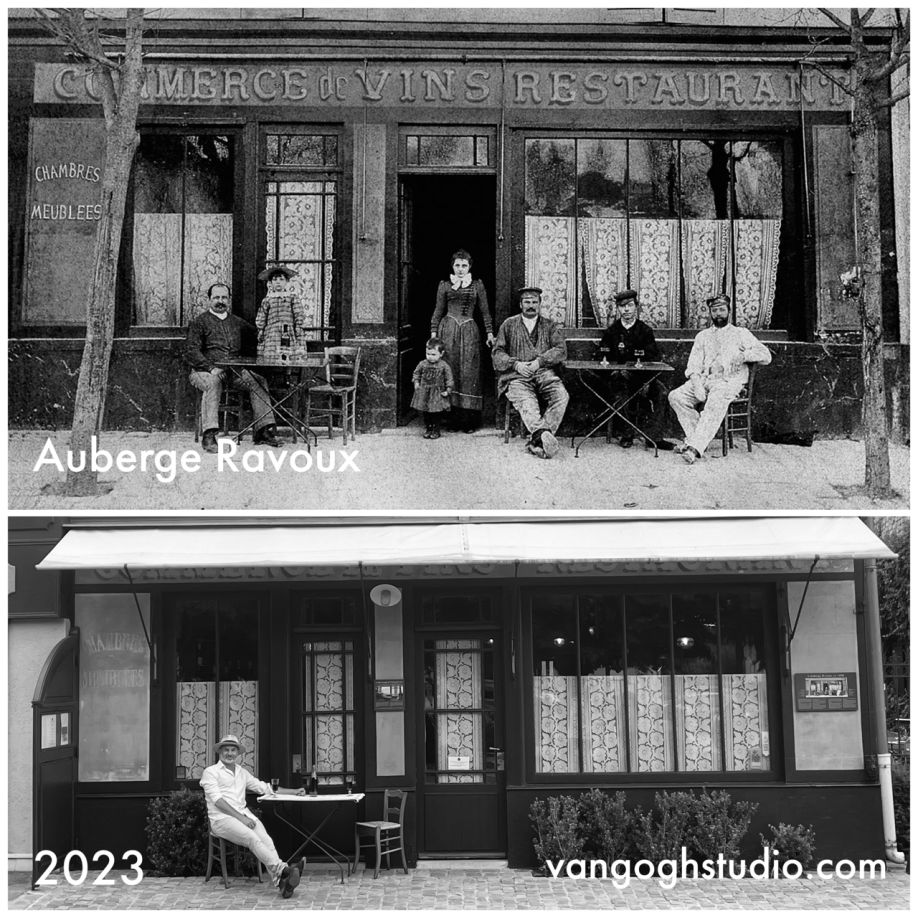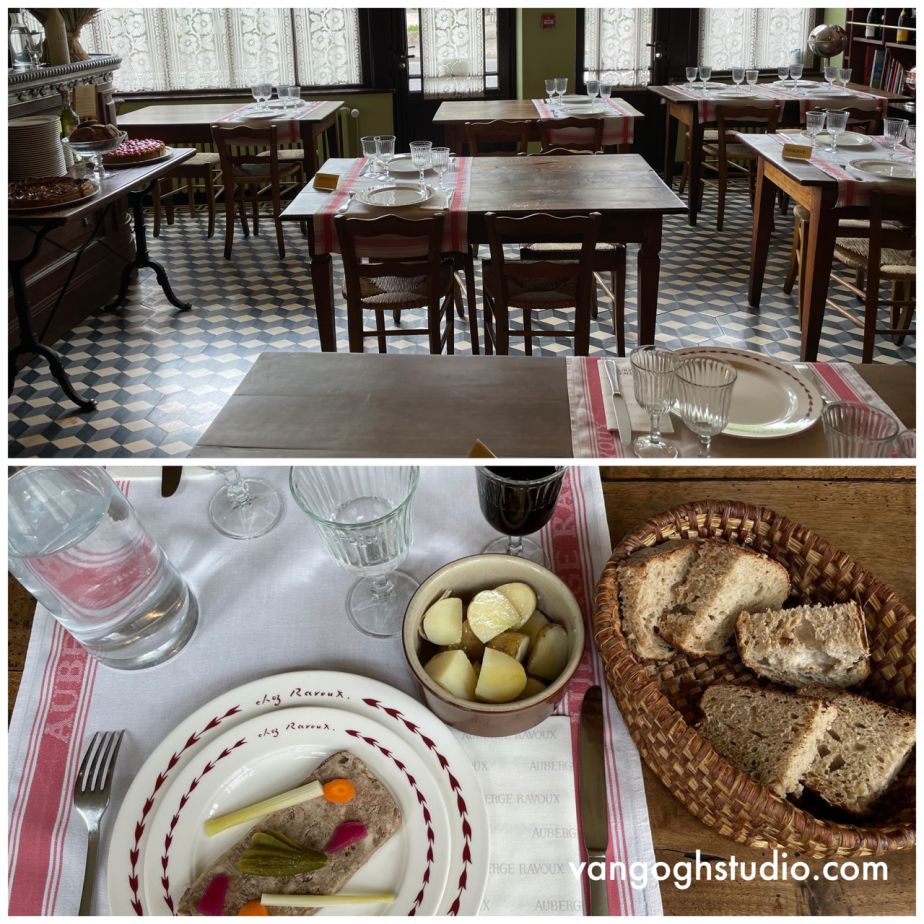 Enjoy your trip to Auvers! You may also appreciate to eat at Auberge Ravoux with a similar menu as in 1890. Simple but delicious. One table in the corner is set for just one person. Vincent's table. If his paintings and his life story inspire you too, then sitting at this table can overwhelm you like being in his bedroom or visiting his grave.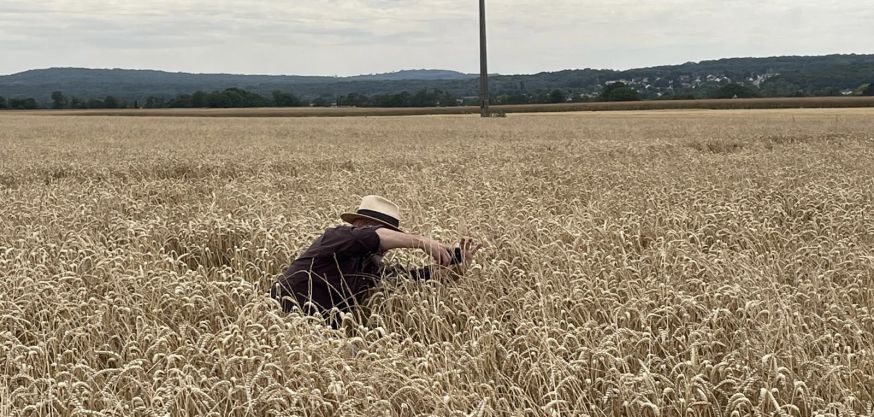 You may also like to read:
Your Daily Dose of Van Gogh
What did Vincent van Gogh write on this day?
Find out in your
FREE Van Gogh e-book
.
Hundreds of questions answered by Van Gogh himself!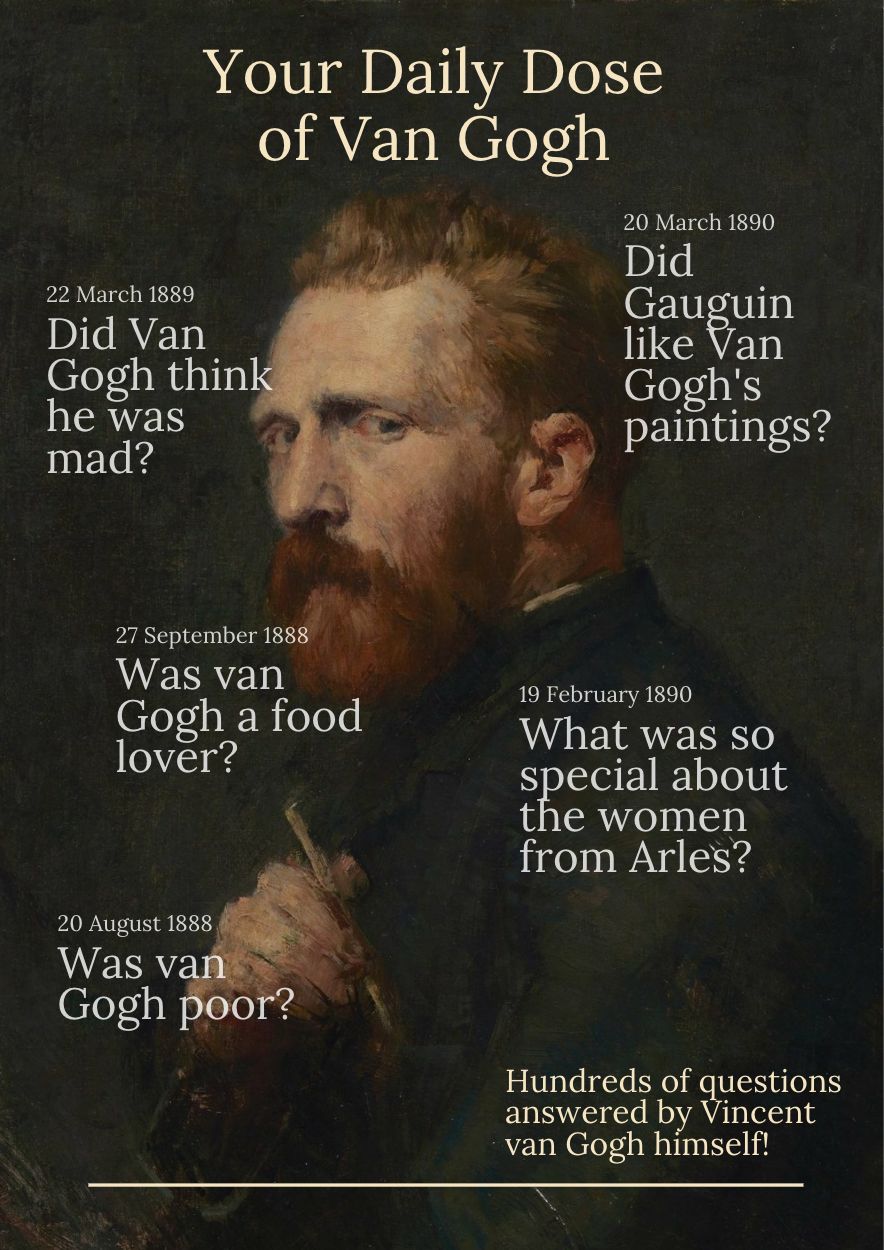 Jaymee
- 06-11-2023
Please correct me if I'm wrong but isn't the table van gogh used to eat at is now in a restaurant in California? Since the early 2000s?
Marya
- 13-08-2023
Thank you for this wonderfully evocative pictorial journey in the footsteps of Van Gogh. It is inspirational.