We are happy and proud to offer two original still lifes by Jo Vergeer:
Still Life with Ginger Jar
and
Still Life with Milk Can
. Where an original Van Gogh is probably not affordable, you do have a chance to invest in another Dutch Master.
Dutch artist Jo Vergeer was born in 1894 in Bodegraven. Vincent van Gogh had passed away in Auvers-sûr-Oise 4 years before at age 37.
Van Gogh was aware of his part in a
historic chain of artists
developing art in general. It was time for Vergeer to contribute his part to art of the future in his own way. Vergeer's authenticity lead to a style that can not be compared with any other artist in the world.
Van Gogh and Vergeer were not alike. Vergeer was a happy man, a father, sociable person and he sold many paintings in his life. But there are also things Van Gogh and Vergeer had in common:
Nature
Both loved to be in nature and to paint it. Vergeer's Biography by Swillens in 1949 is called: "J. N. A. Vergeer, de schilder der natuur" (painter of nature). Vergeer loved to row his boat on the lakes (Loosdrechtse Plassen) and paint the surroundings. Van Gogh felt perfectly happy in the countryside around Arles, Saint-Rémy and Auvers-sûr-Oise.
Money
Both Van Gogh and Vergeer had to find their way to get by. Van Gogh was supported by his brother. Vergeer and his wife had to be creative in times of and in between world wars. Oil paint, brushes and canvas were rationed. There were times where Vergeer swapped paintings for food, going door to door to see if someone was interested in a painting of their house.
Art Academy
Both Van Gogh and Vergeer attended an art academy (Antwerp and Rotterdam). Rather to develop technique than creativity.
Still Lifes
Both painted dark
still lifes of kitchen gear
in the beginning of their career. Despite simplicity, their works show great skills to make the objects look real. (on mobile scroll down to view still lifes of both artists.)
Religion
Before Van Gogh started painting at age 27, he studied to become a preacher. It is believed that the famous
Café Terrace hides Da Vinci's 'Last Supper'
in it. Vergeer's style has been described as theosophical, biblical and symbolic.
Portraits
Van Gogh painted many
portraits
of friends. When Vergeer served the army he painted many other soldiers. His talent lead to being commissioned to paint the portrait of the sheik of Abu Dhabi in 1967.
Fellow artists
Both Van Gogh and Vergeer were autonomous individuals. Connection with other artists in their era was rather an intellectual look upon art than a direct influence on their work. Where Van Gogh discussed art with
Emile Bernard
and Gauguin, Vergeer felt a mental connection with Doré, Toorop and Van Konijnenburg.
Van Gogh may now be the most famous artist in the world. He probably
sold only one painting
in his life. Van Gogh gave everything to be successful but was so much ahead of his time that his recognition only came after he died. Vergeer sold many paintings and he had numerous exhibitions. Prominent papers, art magazines and art connaisseurs have written about Vergeer. But Vergeer lacked the ambition to be successful or famous. But his artworks have their specific role in Dutch art history.
Special thanks to Walter Vergeer, Jo Vergeer's grandson who owns many of his grandfather's paintings.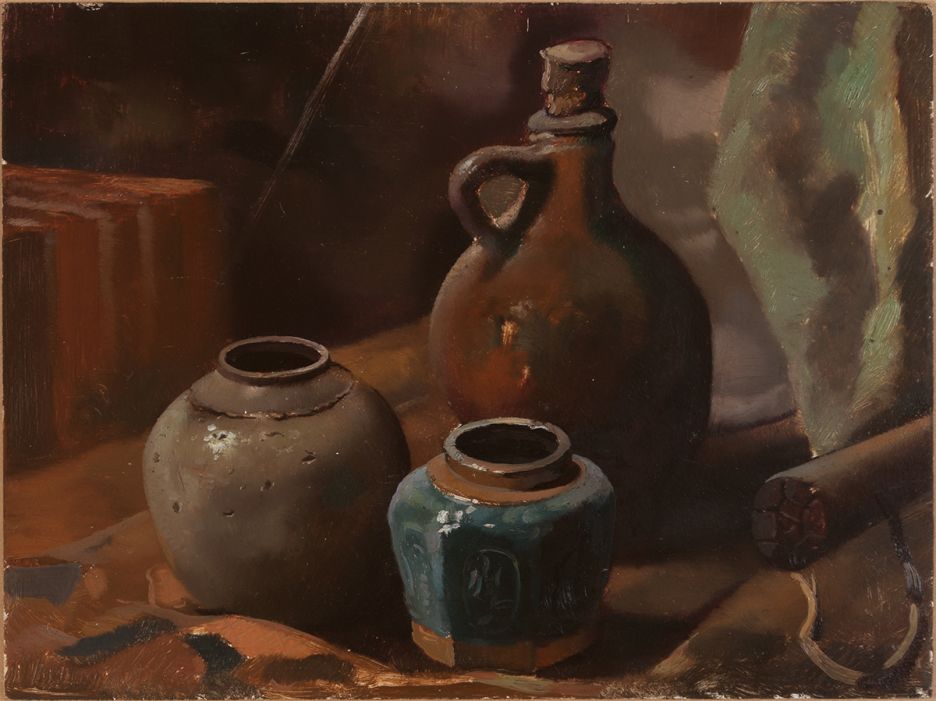 Still Life with Ginger Jar
, original by Jo Vergeer in oil on panel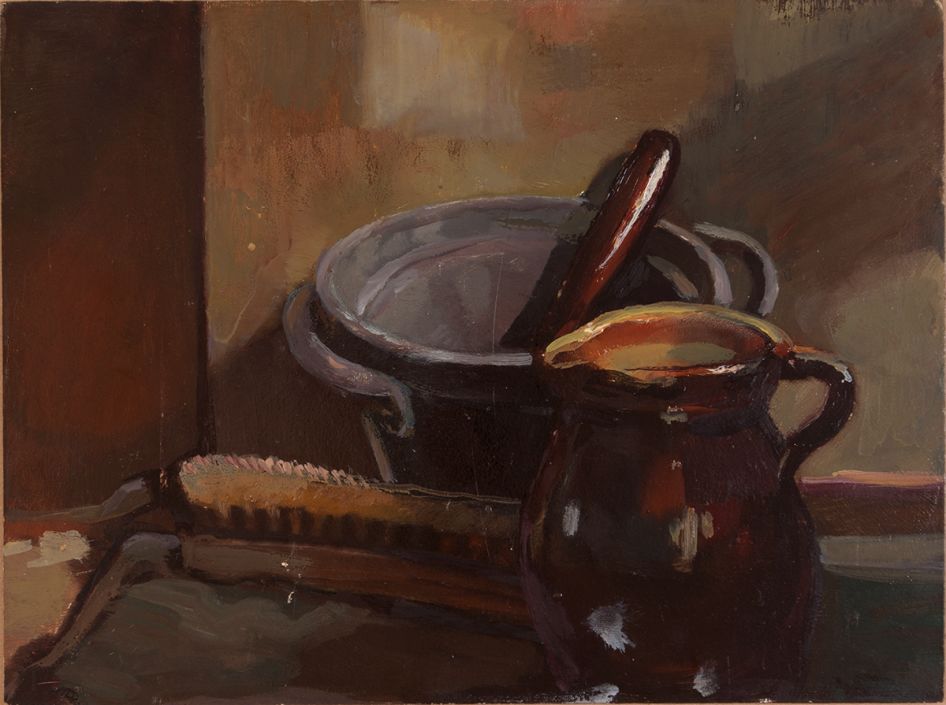 Still Life with Milk Jug
, original by Jo Vergeer in oil on panel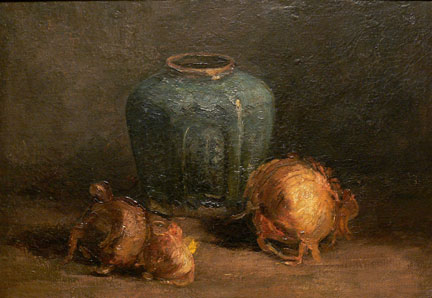 Still Life with Ginger Jar and Onions by Vincent van Gogh
Van Gogh reproductions for sale
Most of Van Gogh's 900 paintings now reside in museums. These paintings are therefore open to public but not for sale. Paintings in private collection are rarely sold and not affordable to many. For more than 20 years we have specialized to replicate Van Gogh's masterworks as the best alternative to a real Van Gogh.