Where did Van Gogh order his canvas?
When Vincent van Gogh lived in Arles and Saint-Rémy he ordered rolls of canvas at Tasset et L'Hôte in Paris. They were size 2 x 5 meters and 2 x 10 meters and Vincent cut the rolls to French sizes. His famous masterpieces of Vases with Sunflowers were size 30, which he would call large size, around 92 x 73 cm.
By examining weaving patterns of the canvas of existing paintings, the Van Gogh Museum can
determine
which paintings came from a certain roll of canvas. In combination with information in Van Gogh's letters this could lead to the dates of creation of the paintings. And.. perhaps of missing paintings from the same roll.
Today 132 years ago, on 9 or 10 December 1889,
Vincent van Gogh wrote to his sister Willemien from Saint-Rémy-de-Provence:
"I have 12 large canvases on the go, above all olive groves, one with an entirely pink sky, another with a green and orange sky, a third with a big yellow sun."
Another work that might have been included is:
Wheatfields with a tree and mountains / A Meadow in the Mountains
Saint-Rémy, 1889
Oil on canvas
73 x 91.5 cm
Kröller-Müller Museum, Otterlo, The Netherlands
You may also like to read: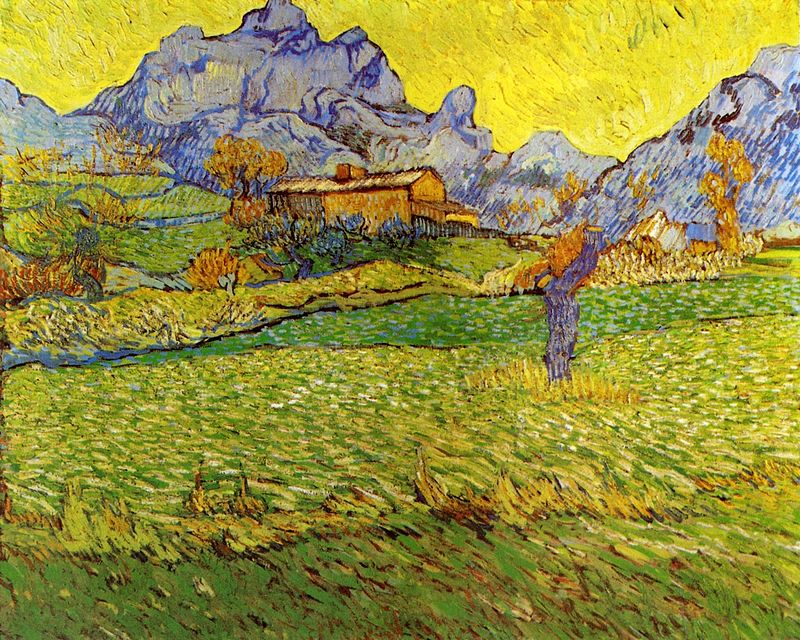 Van Gogh's '
Wheatfields with a tree and mountains
'
<< previous
|
next >>
Your Daily Dose of Van Gogh
What did Vincent van Gogh write on this day?
Find out in your
FREE Van Gogh e-book
.
Hundreds of questions answered by Van Gogh himself!