Which of Van Gogh's sunflowers is the fourth version?
In August 1888 Vincent van Gogh painted 4 versions of his sunflowers series:
First version: Three Sunflowers in a Vase, private collection
Second version: Vase with 5 Sunflowers, destroyed
Third version: Vase with 12 Sunflowers, Neue Pinakothek, Munich, Germany
Fourth version: Vase with 15 Sunflowers, National Gallery, London
And in January 1889 Van Gogh copied the fourth version 3 times:
First copy: Vase with 12 Sunflowers, Philadelphia Museum of Art
Second copy: Vase with 15 Sunflowers, Van Gogh Museum, Amsterdam
Third copy: Vase with 15 Sunflowers, Sompo Japan Museum of Art, Tokyo
Today 133 years ago, on 24 August 1888,
Vincent van Gogh wrote to Theo from Arles:
"I'm now on the fourth painting of sunflowers. This fourth one is a bouquet of 14 flowers and is on a yellow background.."
According to Louis van Tilborgh & Ella Hendriks Van Gogh added the small bloom at lower left later – this explains why he refers here to '14 flowers'.
Vase with 15 Sunflowers
Arles, 1888
Oil on canvas
92,1 x 73 cm
National Gallery of London
You may also like to read: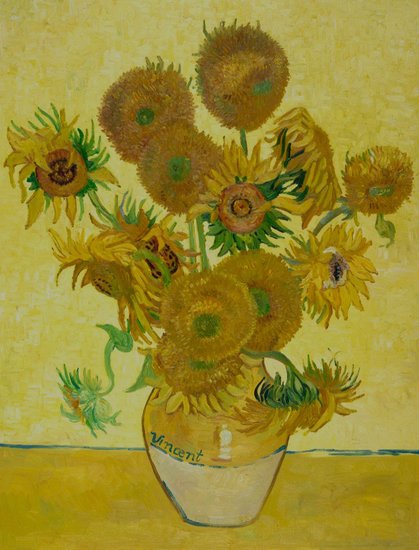 Hand-painted reproduction of Van Gogh's
fourth version of his Sunflowers
.
Your daily dose of Van Gogh.
<< previous
|
next >>