Why did Van Gogh leave Sien Hoornik?
Vincent van Gogh's relationship with Clasina Maria Hoornik (also called Sien/Christien) was not approved by his family. Van Gogh met Sien as a pregnant prostitute. Vincent used her as a model and he took care of her. He also felt the need to protect her from men that could harm her. Later Sien and her daughter moved in with Vincent.

Theo threatened to stop his financial support since Sien was lower class. That never happened, but at his brother's urging, Van Gogh left Sien to paint in Drenthe.

Was Van Gogh's brotherly love stronger that his love for Sien? Was his passion to paint, depending on Theo's gifts, crucial? Would Starry Night or the Sunflowers never have been painted if Van Gogh's love for Sien conquered all? We will never know.
Today 141 years ago, on 14 May 1882
Vincent van Gogh wrote to Theo from The Hague:

"Do I deserve to be left in the lurch because I helped a pregnant woman and don't want to send her back onto the streets? We've promised to be loyal to each other; is that not allowed? Is death the punishment for that??? Adieu, old chap, but before you strike the blow and chop off my head and Christien's and the child's too... sleep on it again. But again – if you must – then in God's name 'off with my head'. But preferably not, I need it for drawing. (And Christien and the child couldn't pose without heads.)"

Woman with Child
The Hague, 1882
Pencil, traces of a perspective frame and squaring, on laid paper
54,3 × 41,7 cm
Kröller-Müller Museum, Otterlo

You may also like to read: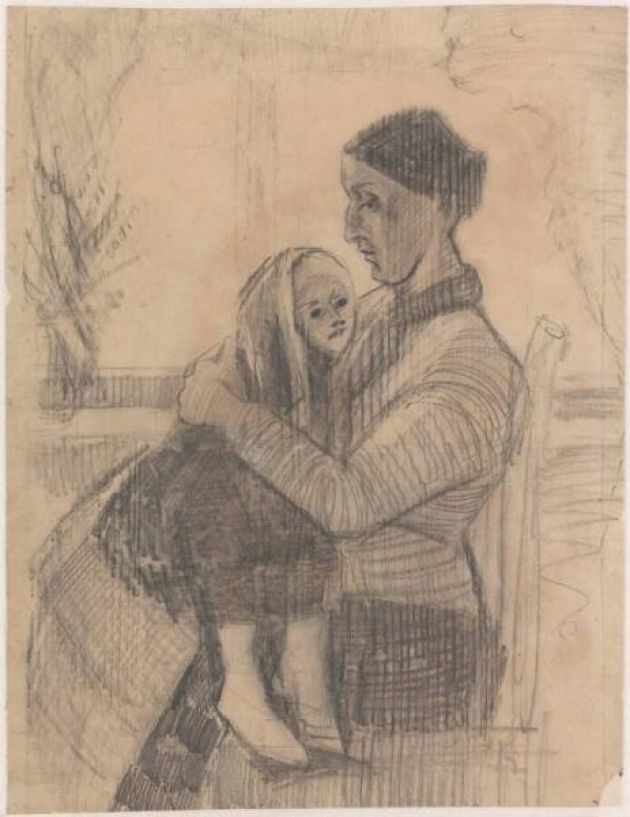 Van Gogh's 'Woman with Child '
<< previous
|
next >>
Your Daily Dose of Van Gogh
What did Vincent van Gogh write on this day?
Find out in your
FREE Van Gogh e-book
.
Hundreds of questions answered by Van Gogh himself!