Did Van Gogh feel lonely in a crowd?
Vincent van Gogh visited his brother Theo and his wife Jo in Paris on 6 July 1890. He also met art critic Aurier there who had just written a very positive article on Van Gogh's paintings. Toulouse-Lautrec joined for lunch and the French impressionist Armand Guillaumin was coming to meet Vincent. But it was too much for him.
Wasn't Van Gogh able to connect with the people that surrounded him? Was Vincent in fear not to be accepted? It was in this state of emotional isolation that he arrived in Auvers-sûr-Oise and painted Wheatfield under thunderclouds, expressing extreme loneliness.
Today 132 years ago, on about 9 July 1890,
Vincent van Gogh wrote to Theo and Jo from Auvers-sur-Oise:
"There – once back here I set to work again – the brush however almost falling from my hands and – knowing clearly what I wanted I've painted another three large canvases since then. They're immense stretches of wheatfields under turbulent skies, and I made a point of trying to express sadness, extreme loneliness."
Wheatfield under thunderclouds
Auvers-sur-Oise, 1890
Oil on canvas
50.4 cm x 101.3 cm
Van Gogh Museum, Amsterdam
You may also like to read: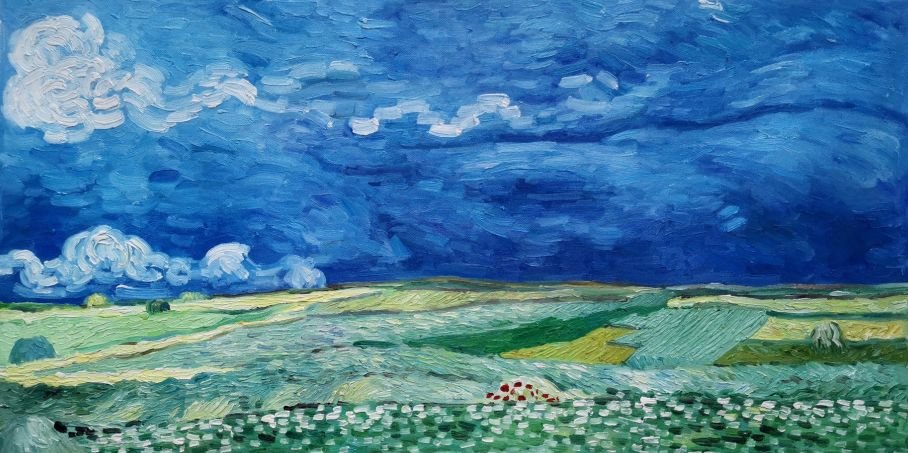 Our hand-painted reproduction of Van Gogh's '
Wheatfield under thunderclouds
'
<< previous
|
next >>
Your Daily Dose of Van Gogh
What did Vincent van Gogh write on this day?
Find out in your
FREE Van Gogh e-book
.
Hundreds of questions answered by Van Gogh himself!