A Happy New Year for Vincent van Gogh?
Vincent van Gogh wrote in January 1889:
"Dearest mother and sister,
For a couple of weeks now it has been my firm intention to drop you a line to wish you a prosperous and happy New Year. I'm perhaps a little late for that now. You'll probably forgive me for this when I tell you that I've been indisposed, and in December at that. But can tell you at the same time that I'm completely recovered and back to my normal routine and work."
Van Gogh's difficult times in Arles
Although Van Gogh painted many of his masterpieces in Arles in 1888, it had not been an easy year for him at all. Severe mental problems made Vincent even
cut off his ear.
He was treated in hospital by
Dr Rey
and he was told to reduce his consumption of
alcohol
.
Van Gogh's recovery in Saint-Rémy.
The first months of 1889 were still not easy for Van Gogh. He had to go back to hospital. But in may 1889 Van Gogh moved to the
asylum
in Saint-Rémy and life actually became much better for him. Van Gogh kept producing many now world famous paintings like the
Starry Night
.
To Theo on 9 June 1889:
"I'm in good health – so-so, I feel happier with my work here than I could outside. By staying here a fairly long time, I'll have acquired controlled behaviour, and in the long run the result will be more order in my life and less impressionability. And that would be something gained."
Once allowed outside the garden of the asylum he enjoyed being in nature again where was able to paint his beloved
olive trees
,
willows
and
cypresses
.
'I dream my painting and then I paint my dream'
For many people all over the world 2020 has been a very difficult year due to the
corona virus
. Somehow we will have to find strength to keep going, just like Van Gogh in 1889. At Van Gogh Studio our dream is keep making customers happy with our Van Gogh reproductions and to inspire people to visit the originals in museums and enjoy
Vincent's letters
. What is your dream?
Happy 2021, stay healthy and may all your dreams come true!
Erik and artists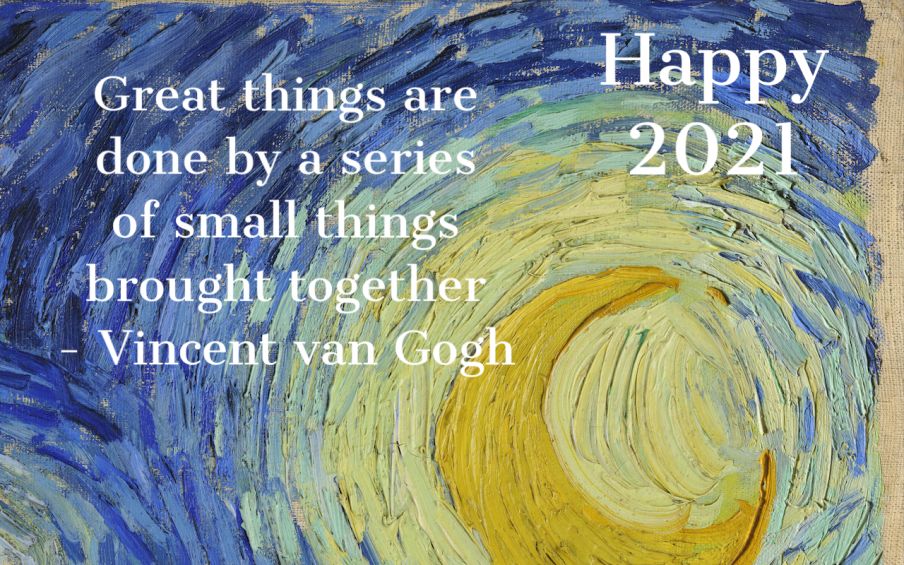 Detail of
Starry Night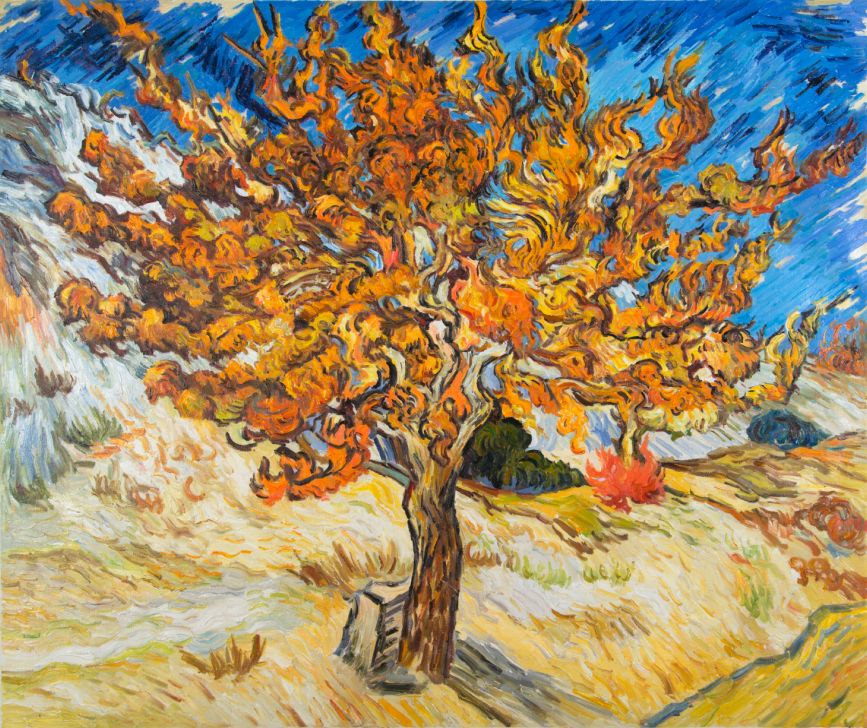 Our hand-painted reproduction of Van Gogh's
Mulberry Tree
, which he painted in the garden of the asylum.
You may also like to read: