How long did it take Van Gogh to paint Harvest at la Crau?
Vincent van Gogh was very satisfied with his painting of the Harvest at La Crau near Arles.
He painted it in one day, except for some adjusting and perfecting afterwards, back in The yellow House. Van Gogh was well prepared to get it done in one go as he made two studies of it with pen and watercolor first.
Today 134 years ago, on or about 29 June 1888,
Vincent van Gogh wrote to Theo from Arles:
"It's like that with the one of which I sent you the drawing, the harvest and the wheat stacks too — it's true I have to retouch everything to adjust the workmanship a little, to harmonize the brushstrokes, but all the essential work was done in a single long session, and I'll spare it as much as possible when I go back to it."
One of the drawings that Vincent sent was:
The Harvest
Arles, 1888
Pen, watercolour
48 x 60 cm
Private collection
You may also like to read: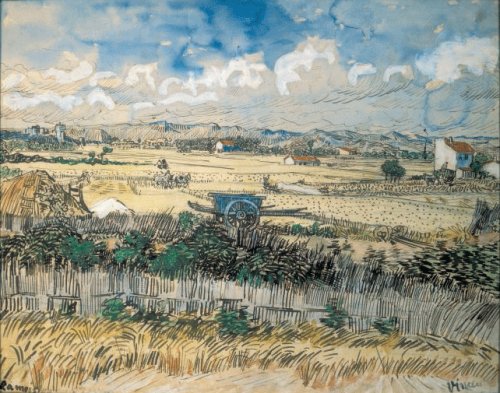 Van Gogh's '
The Harvest
'
<< previous
|
next >>
Your Daily Dose of Van Gogh
What did Vincent van Gogh write on this day?
Find out in your
FREE Van Gogh e-book
.
Hundreds of questions answered by Van Gogh himself!