How much did the Van Gogh Museum pay for Van Gogh's paintings?
In 1962 the Vincent van Gogh Stichting, (founded by Vincent van Gogh's nephew) received 15 million guilders (7,66 mln euro or 8,35 mln usd) from the Dutch government for 200 paintings by Van Gogh (and Gauguin) 400 drawings and all of his letters. 11 years later the Van Gogh Museum in Amsterdam opened.
Today 132 years ago, on 31 January 1890,
Vincent Willem van Gogh (the painter's nephew) was born.
Theo van Gogh wrote to Vincent from Paris:
"The child is already beginning to cry lustily. How happy I'd be if in a while, when Jo's well again, you'll be able to come and see her and see our little one! As we told you, we'll name him after you, and I'm making the wish that he may be as determined and as courageous as you."
Vincent painted the Blossoming Almond Tree as a gift to Theo and Jo.
Blossoming Almond Tree
Saint-Rémy-de-Provence, 1890
Oil on canvas
73,3 x 92,4 cm
Van Gogh Museum, Amsterdam
You may also like to read: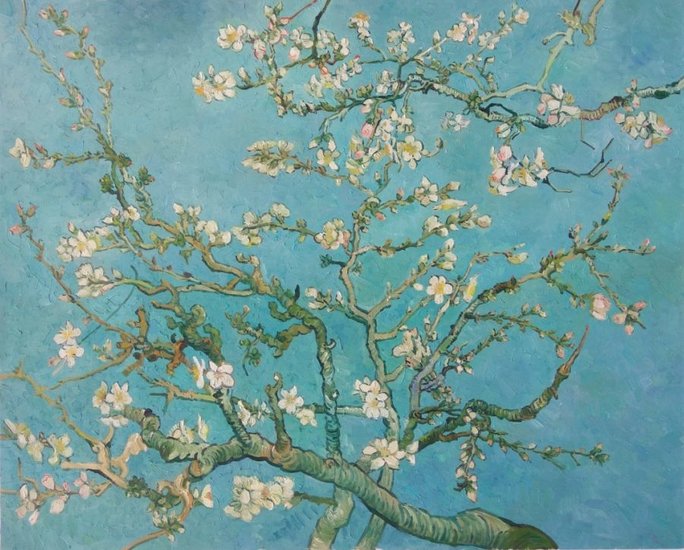 Our hand-painted reproduction of Van Gogh's '
Blossoming Almond Tree
'
<< previous
|
next >>
Your Daily Dose of Van Gogh
What did Vincent van Gogh write on this day?
Find out in your
FREE Van Gogh e-book
.
Hundreds of questions answered by Van Gogh himself!