Why did Theo van Gogh send the Bedroom painting back to Vincent?
Vincent van Gogh was actually very happy with the painting of his
bedroom in Arles
. After the ear accident Van Gogh was in the hospital in Arles and therefore he could not stop the flooding river Rhône from damaging the painting. Gauguin had already left The Yellow House then and moved from Arles to Paris.
Vincent sent the painting to Theo in Paris anyway, but Theo sent it back asking Vincent to copy it because of the damage. Vincent's copy, the second version of the Bedroom, pleased Theo even more. In summer Van Gogh made
a third version
.
Today 132 years ago, on 22 December 1889,
Theo van Gogh wrote to Vincent van Gogh from Paris:
"My dear Vincent, I've safely received your consignment of the Wheatfield and the two Bedrooms. Above all I like the last one, which in terms of colour is like a bouquet of flowers. It has a very great intensity of colour."
Bedroom in Arles, Second version
Saint-Rémy-de-Provence, 1889
Oil on canvas
72 x 90 cm
Art Institute of Chicago
You may also like to read: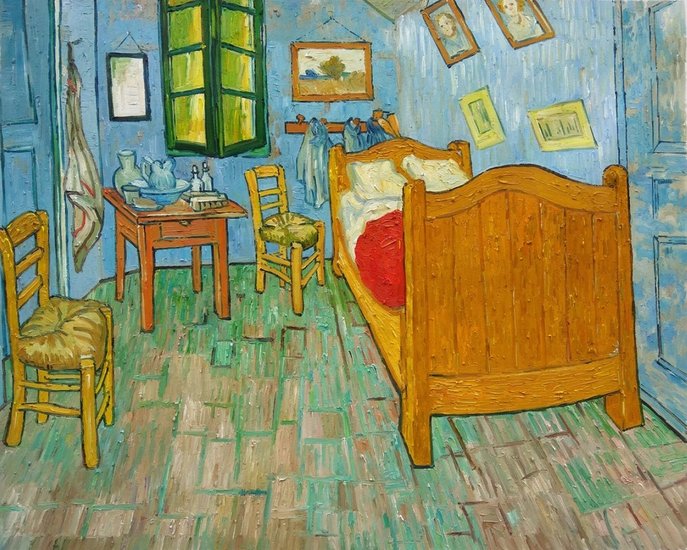 Our hand-painted reproduction of Van Gogh's second version of '
Bedroom
'
<< previous
|
next >>
Your Daily Dose of Van Gogh
What did Vincent van Gogh write on this day?
Find out in your
FREE Van Gogh e-book
.
Hundreds of questions answered by Van Gogh himself!