Vincent van Gogh artwork and life
Are Van Gogh paintings copyrighted?
Van Gogh's paintings are not copyrighted now because the artist has been dead for more than 70 years. This means that Van Gogh's paintings are now a part of the public domain.
While that is true, any reproductions or photographs of his paintings will still come under the copyright laws. So, if any museum were to photograph its paintings, they would hold the copyright of those photographs.
This is also the reason why many
museums
do not allow visitors to take pictures of the paintings.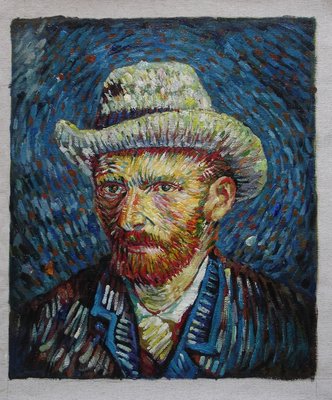 Where are Van Gogh's sunflowers?
Van Gogh made two
sunflower painting series
– one in
Paris
and another in
Arles
. The Paris series has cut sunflowers and lying on the ground, and the Arles series has sunflowers put in a vase.
Today, Van Gogh's sunflowers are distributed all over the world including
Van Gogh Museum
in Amsterdam,
Kröller-Müller Museum
in Otterlo,
Metropolitan Museum of Art
, New York, and
National Gallery
, London. One of the sunflower paintings which was in a private collection was
destroyed in a fire
during the World War II.
Did Van Gogh sell any paintings?
Van Gogh never got successful or popular during his lifetime. He was a struggling artist who died of depression in a mental asylum. In 1888, just one year before his death, Van Gogh managed to
sell his painting
,
The Red Vineyard
to Anna Boch, who was the sister of Van Gogh's artist friend Eugène Boch.
Apart from this, Van Gogh exchanged his art with many young artists and got commissioned to create
portraits
as well.
Did Van Gogh go to art school?
In his early years, Van Gogh had a clear dislike for art schools, but when the Dutch artist Willem Roelofs convinced him to try out school, Van Gogh decided to attend Académie Royale des Beaux-Arts.
The school was located in Brussels, Belgium, where he enrolled in November 1880, and learned more about standard rules of modelling and perspective and anatomy for a year.
How did Van Gogh change the art world?
Van Gogh has inspired millions of people, and not just people within the art world, and that is because of his incredible life story. An artist who is now counted in one of the most legendary artists we have ever seen on the earth, was unappreciated till the day he died.
Van Gogh was only able to
sell
one of his paintings in his lifetime and he continued to get rejections. That is also considered as one of the reasons for his depression.
Is Van Gogh an impressionist?
Vincent Van Gogh is often referred to as a post-impressionist artist, and this list also includes
Paul Gauguin
and Paul Cézanne. The post-impressionist artists rejected the concerns of impressionists with natural and spontaneous rendering of colour or light.
Instead, they put emphasis on symbolic content, their structure and order.
They also believed that colour should be independent from composition and form and it should be an aesthetic and emotional bearer.
Was Van Gogh married?
Van Gogh was never married in his lifetime, but he did have many failed relationships, and that is probably the reason why he couldn't find a life partner. The artist had four key women in his life – his cousin Kee Vos who was widowed, a prostitute Sien Hoornik, a neighbour Margot Begemenn and a café owner
Agosthina Segatori
.
Van Gogh had a tendency to fall for the most unconventional women. He also favoured women who were more mature and rather unsuitable for someone like him. He did yearn for love for most of his life, but there is no doubt that art was one of the most important things in his life.
Was Van Gogh left handed?
While people often assume Van Gogh to be right handed, he was actually left handed, and the evidence for that is in his paintings itself. In one of his self-portraits, Van Gogh is seen holding the colour palette in his right hand and brushes in his left hand.
Though many might say since Van Gogh used mirrors to paint
self-portraits
, it could have been his right hand holding the brush. But when we look closely, we find Van Gogh's coat button to be on the same side as the colour palette.
Coats for men during this time had coat buttons on the right side of the coat, and that means Van Gogh was indeed painting from his left hand.
Was Van Gogh religious?
Van Gogh's father was a minister, and that is why he was raised a Christian. It is said that even though Van Gogh believed in God, his beliefs changed with time.
There was a time when Vincent wanted to become a minister, just like his father, but he soon realized that religious beliefs should be formed through human emotions and to through doctrine. Ultimately, he came to believe that nature is the thing that signifies god.
Was Van Gogh a genius?
There are no second thoughts when we say Vincent Van Gogh was a genius, his work was too ahead of its time and that is probably the reason why he wasn't appreciated during his lifetime, and even after creating several masterpieces, he was only able to sell one.
He did go to a boarding school when he was young, and then to an art school but he always felt he wasn't living up to his potential. It is said that it was Vincent's time in
Arles
which completely unleashed his potential.
What was Van Gogh's inspiration?
One of the biggest inspiration for Vincent Van Gogh was
nature
. With a string of failed relationships in his past, Van Gogh came to the realization that a man's relationship with nature was the most important of them all.
That is why Van Gogh painted nature excessively, from wheat fields, to the
Starry Night
and sunflowers, he made sure he was depicting every part of nature.
When was Van Gogh born?
Vincent Van Gogh was born in Zundert, Netherlands on 30
th
March, 1853. He was born into an upper middle class family and his father was a minster in a church. He was given the name of his grandfather and his stillborn brother who died exactly a year before he was born.
He had a younger brother Theo, and three sisters – Elisabeth, Anna, and Willemina. During the later years of his life, Van Gogh was only in touch with Theo and Willemina.
Where is Van Gogh buried?
Van Gogh died on the early morning of 29
th
July, 1890, and he was on buried in a municipal cemetery in
Auvers-sur-Oise
on 30
th
July. His funeral was attended by some 20 friends and family members, including his brother Theo.
Theo, in fact, was quiet taken aback by Vincent's death and his health started to deteriorate as well. On 25
th
January 1891, Theo died as well and his body was buried at Den Dolder, in Utrecht. But in 1914, Johanna van Gogh-Bonger, Theo's widow, moved his body and buried it next to Vincent's.
Which Van Gogh paintings are in Paris?
There are over 25 of Van Gogh's paintings in Paris's famous museum
Musée d'Orsay
. The stunning architecture of the building, which was done in late 1800's, is a gem in itself.
Some of the Van Gogh paintings at the museum in Paris include –
Portrait of Doctor Gachet
,
Vincent's Bedroom in Arles
,
Dance Hall in Arles
, and
Starry Night over the Rhone
.
Which Van Gogh paintings are in Amsterdam?
Amsterdam has the biggest collection of
Van Gogh paintings
, thanks to all the artwork which was loaned by Van Gogh's family to the
Van Gogh Museum
. The collection mainly includes all the unsold work that the Van Gogh family considered too dear to give out.
Some of the paintings by Vincent Van Gogh present in Amsterdam, include –
The Yellow House
,
The Potato Eaters
,
Blossoming Almond Tree
,
Vase with 15 Sunflowers
, and
Wheat Field with Crows
.
How did Vincent Van Gogh lose his ear?
Vincent asked
Paul Gauguin
to come stay with for some time in
Arles
so that both the artists could learn from each other and create a studio together. But the two artists soon started arguing and having a heated argument.
When Gauguin said he was going to leave, Van Gogh threatened him with a razor, but he still left. After Gauguin left, Van Gogh had a psychological breakdown and cut his ear with the same razor.
Your Daily Dose of Van Gogh
What did Vincent van Gogh write on this day?
Find out in your
FREE Van Gogh e-book
.
Hundreds of questions answered by Van Gogh himself!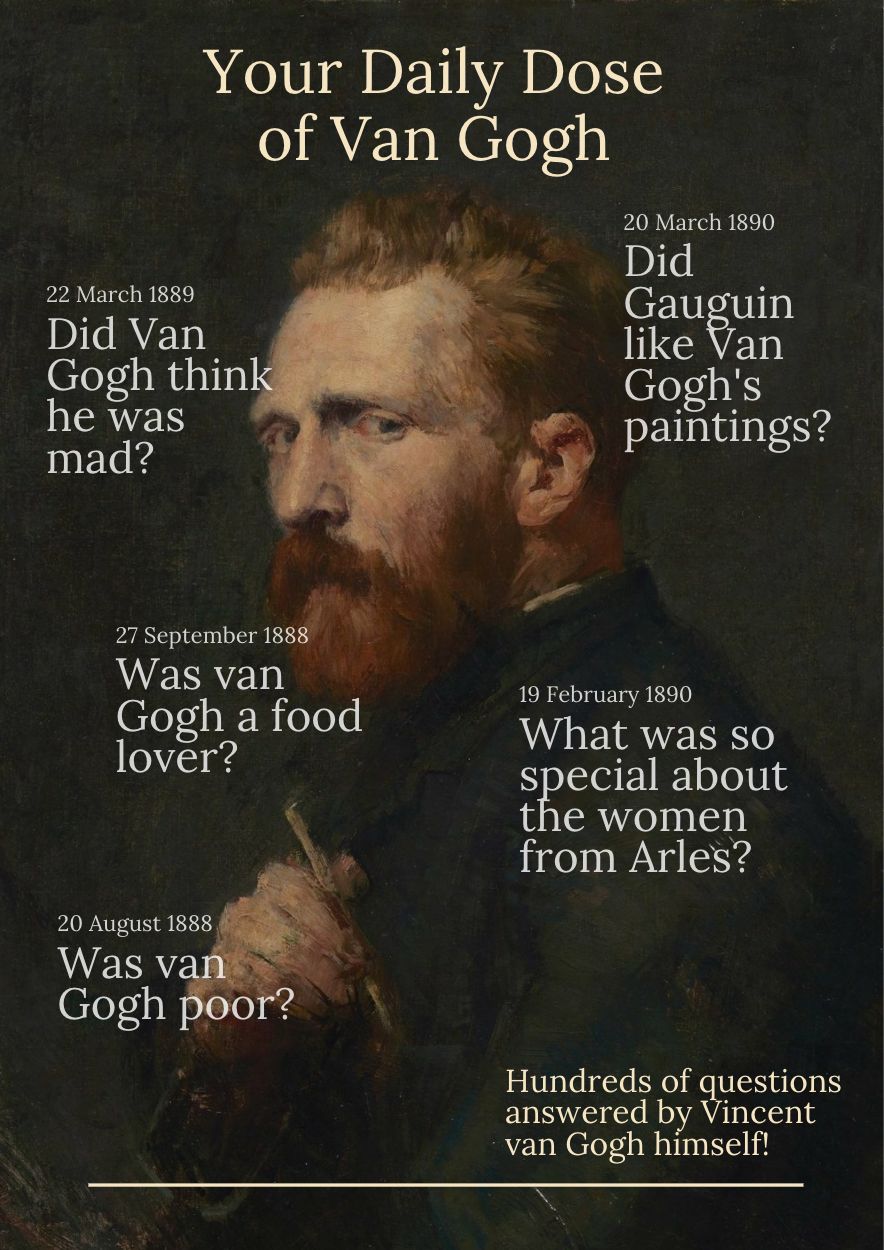 Erik (Van Gogh Studio)
- 11-02-2023
Copyright ceases to apply 70 years after the death of the work's creator. This period starts on 1 January of the year after the creator died.
Sugar
- 07-01-2023
Kenneth Adams, Jr. What are the actual laws? Can they be used commercially or not?