Vincent Van Gogh Paintings Made In Saint Remy (1889-1890)
In 1889, Van Gogh was admitted to a mental asylum in Saint Remy, where he was treated for his worsening mental state. During this time, he created a number of paintings that would later come to be known as some of his best work. Some of his more well known pieces during this time were
Blossoming Almond Tree
,
Starry Night Over The Rhone
and
Irises
.
Although this period was not the end of Van Gogh's illness, he strived forward in his art and created paintings that are admired and valued even to this day. Some of the paintings that he created during this time were focused from the view that he had from his window in the asylum, such as
Wheat Field With Cypresses
.
Vincent Van Gogh Replica Oil Paintings For Sale
In Saint-Remy de Provence, Van Gogh was hospitalised in the Saint-Paul Asylum, where he aimed to cure himself of mental illness while continuing to work on his paintings. Most of the time, he was confined to his room in the asylum, which became an area where he would create multiple paintings based on the views that he saw from the window. One of these include
Road With Cypress And A Star
.
During this time, there were times when his illness overtook him and he could do nothing. But during the periods where he could think clearly, he would often continue painting whatever subjects he could find. He drew
self portraits
too, but the most famous works that emerged from this period of his life were undoubtedly
Blossoming Almond Tree
,
Starry Night Over The Rhone
and
Irises
.
About Van Gogh Studio
At Van Gogh Studio, we are dedicated to producing the most accurate recreations of Van Gogh's paintings as possible. Our artists are all expertly trained in all of Van Gogh's techniques, including colour mixing, brush strokes, impasto, rhythm of application, and ambience. We also use the same materials and paints that he used, so there will be no variance from the original technique.
In order to continue the same practice of following Van Gogh, we also use the same perspective and drawing techniques that he used. This dedication to the most intricate of details ensures that your copy will be very close to the original in every way. The end result would be the same as what Van Gogh himself would have painted. We guarantee your complete satisfaction or 100% of your money back.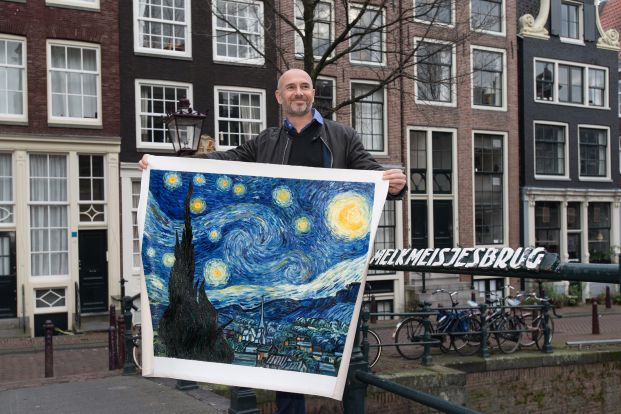 Vincent van Gogh would have been very proud if he had known in Saint-Remy de Provence, back in 1889 that one day his paintings like
Starry Night
were painted in exacltly the same style that he invented.